In Emma's words…
Who/what inspires me: Peter Singer for his commitment to ethics, my mum for her wisdom and optimism, and our amazing planet.
Best advice/ motto: There is never an action too small to make a difference in someone's life.
As a five-year-old Australian Emma Crane would leave the gated confines of the ex-patriate compound in Jakarta Indonesia where she lived and board a bus for school. Dressed in her freshly ironed clothes, hair neatly brushed, she would gaze out the window at the sea of humanity – a crush of beggars, markets, filth, dogs, whole families packed onto motor scooters. Even then Emma got an inkling that something wasn't right.
When she returned to Australia a couple of years later she started to question the discrepancy. Why had she travelled by air-conditioned bus to school, while others her age begged on the streets?
It's a question that stayed with her and has shaped the impressive array of achievements she's notched up in her 19 years. For Emma is dedicating her life to lessening the gap between the world's haves and have nots by fighting for the rights of the poor. Most recently she has launched an Ethical Living Challenge to encourage everyday people to do their bit to lessen social injustice.
Emma got an inkling that something wasn't right.

Even as a youngster Emma realised the difference between her comfortable life and that of other kids her age in Indonesia.
Human rights advocate emerges
After living in Indonesia Emma and her family returned to Perth, Western Australia, where she began her fight for human rights. She became 'community service captain' of both her primary and secondary schools, convincing the high school and local council to become 'Fair Trade Communities', arranging for her high school to sponsor a child through World Vision, raising money for five charities and starting a social justice group called Vision Generation.
She became hooked on the high of it all. "The experiences were self-empowering," she says. "It was nice to have a recognised role from which I had the power and the tools to really make change within the school environment."
"The experiences were self-empowering."
Stepping up
Armed with the knowledge she wanted to transform such work into a career, Emma  took on a role as an intern with the Fair Trade Association on her gap year between high school and university. She'd sit at her home computer developing action packs to encourage schools and universities to go Fair Trade and convinced many to purchase Fair Trade products.
She also became a UNICEF ambassador in 2013-14, during which she campaigned for human rights in Syria, helped refugees share their stories and gave speeches at conferences, schools and a law firm.
As part of her 'gap year' Emma also travelled, finishing her globetrotting with a month in Cambodia witnessing firsthand the work of non-government organisations in helping ease the pain of poverty. Given her involvement in Fair Trade, she was particularly keen to see it in action.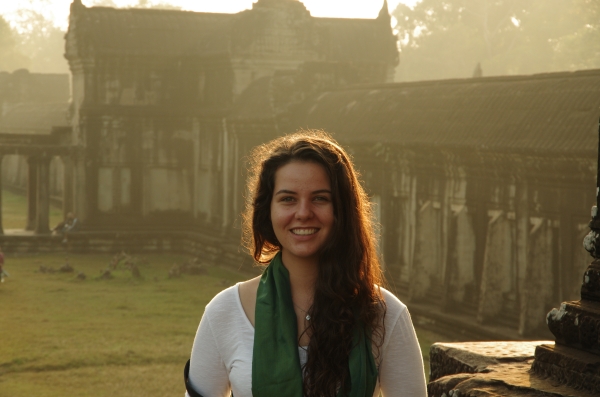 Lives transformed
While travelling Cambodia, Emma visited a Fair Trade cooperative which employed disabled women to make bags from recycled materials. She watched the women behind their sewing machines, in awe of how Fair Trade had rescued them from a life of sorrow. While most of the women were deaf and mute, Emma was able to converse with one lady through a translator. The woman spoke of her joy at being given a job when no one else would consider employing her. Her eyes warmed with the appreciation of having the chance to earn money, the means to feed her family. "It was really amazing because there she was behind a sewing machine, creating a livelihood and she said she could feed her kids and didn't have the day-to-day stressors of worrying where her food was coming from. She was happy," Emma says.
While buoyed by witnessing Fair Trade in action Emma found herself disillusioned with the international development sector in general. "I wasn't that comfortable with the idea of Westerners coming in and giving aid without consulting with the locals," she says. "It seemed a bit paternalistic at times. I'm more for small grass roots initiatives. Don't get me wrong, it's really important to give aid but I took a step back when I wasn't sure where exactly the money was going and how it was helping. I thought 'if I'm not entirely sure about all this, what can I do instead to make sure I'm not harming other people with my daily actions?' That was what led to the whole ethical living idea."
 She watched … in awe of how Fair Trade had rescued them from a life of sorrow.

While in Phnom Penh, Cambodia, Emma spent five days staying in a local university scholarship residence and helping to run programs with children in slum areas.
Reality behind our purchases
Impressed by the tangible difference to lives she'd witnessed at the Fair Trade cooperative, Emma invested countless hours preparing an Ethical Living Challenge when she returned to her Perth home for summer before starting university. While her friends hit the beaches and bars, Emma partnered with the organisation Ethical Switch to devise a 21-day challenge for everyday consumers to make informed decisions about their purchases.
Some 1200 people signed up to the challenge and received daily emails informing them of behind-the-scenes reality of many of our purchases – tales of sweatshops, slavery, child labour and environmental destruction. She challenged participants to consider what they were buying, to consume less, to buy products produced in an ethical manner, and to spread the word.
"It really surpassed all my expectations," Emma says. "People are really shocked when they do things like calculate their slavery footprint. I had an entire school doing it. I think it really opens people eyes because we can't see the reality behind the product when they're on the supermarket shelves."
… tales of sweatshops, slavery, child labour and environmental destruction.
It just takes one
Like most people embarking on such a quest, Emma faces her share of self-doubt. "Sometimes I wonder how much impact it is having," she says. "But then I listen to the rational explanation in my head that tells me this is making a difference. Even if I influence the lifestyle of one person and they choose Fair Trade products and that has a domino effect on their friends and family, then that sends a message to businesses about what we will and what we won't stand for in terms of ethical business and service production. These issues are so huge and at the end of the day there's the age old question of 'what can one person do?' But if one person starts it can have a snowball effect on others."
"If one person starts it can have a snowball effect on others."
Get involved
Find out more about Emma's Ethical Living Challenge on the website www.ethicallivingchallenge.com. Learn about which companies obtain their goods in an ethical fashion at Ethical Switch www.ethicalswitch.com and discover which goods are produced through Fair Trade via the Fair Trade Association www.fta.org.au.