In Alex's words … 
Who/what inspires me: I'm inspired by those who work tirelessly in animal rescue organisations – the selfless people who devote their lives to making a difference to animals. It can be a thankless task, a hard, relentless slog, but they persist. Their generosity towards, kindness to, and endless tenacity for, creatures in need makes them living angels. They are people I respect immensely and aspire to be like.
Best advice or motto: Well it's not so much advice as a quote by Ellen DeGeneres along the lines of "Ignore the lovers, ignore the haters – just do what you do". To me it means, just get on with it and get on with it well and don't let your ego overtake you.
Alex Cearns had recently started volunteering to photograph abused RSPCA animals when she realised her life calling. She'd been asked to photograph a severely neglected dog, found with one of its starving puppies dead in the food bowl beside her, to help with the prosecution of the dog's owners. But where others saw horror, Alex looked past the protruding ribs and the sad eyes and saw beauty. Instead of highlighting the dog's desperate state, Alex sought to portray her loveliness. "I didn't want people to look at her and not see her as beautiful," she says. "She was so kind. It just broke my heart that she'd been treated so terribly but she was so still so trusting."
While she would never have dreamed it at the time, the job of photographing the abused dog ignited a flame that would eventually see Alex leave her long-standing police and government jobs for a career as a professional animal portrait photographer. It would spark a volunteer arrangement with RSPCA and other charities that sees Alex donate 40 percent of her time to animal charities, rescue and welfare organisations. And it would launch a globally recognised role as an animal photographer who now has published two coffee-table photography books, with another due out next year. A photographer who travels the world promoting and photographing rescued animals and raising thousands of dollars for animal shelters. A photographer who uses her growing recognition to speak out for animal rights, to advocate for animal rescue, to urge others to follow their passions to create meaningful and fulfilling lives.
Instead of highlighting the dog's desperate state, Alex sought to portray her loveliness.

Alex uses her photography to showcase the loveliness in every animal, no matter their breed, or condition.
Animal-loving kid
Not that Alex would have guessed what life had in store for her when she was a teenage only-child growing up in the remote Western Australian mining town of Tom Price. While she'd long been an animal lover – one of her first memories is of dressing up Chirpy the pet chicken and pushing him in a pram – she'd never considered photography.
She received her first camera aged 16 and took a couple of bad photos and forgot all about it. After finishing school she entered the police service. But, after a good friend and fellow police officer died on the job Alex needed a career change. She became a crime analyst, helping source information to aid homicide, armed robbery, child abuse and major fraud squad investigations. While she loved the challenge, after working in the child abuse unit and witnessing its horrors, she again sought out a career change. So, in 2005 she started working with the federal government auditing airports for their counter terrorist security measures.
Passion uncovered
In the meantime, Alex had also started searching for an interest outside work. She tried writing a book, thought about playing soccer, and then considered photography. "A friend invited me along to take family photos at a local park and when I was meant to be taking a photo of the child doing a ballet pirouette I was trying to take photos of a bird flying past," she says. "I realised, as soon as a creature walked into my space, that's what I was pointing my camera at and gravitating towards. They became the focus of my lens."
So it seemed animal photography was her thing. But where to find more animals? Alex looked up RSPCA and Kanyana Wildlife Rehabilitation Centre in Perth and began photographing their animals, especially those that could become rescue pets.
It the meantime she also started photographing people's pets. Her weekends became jammed with pet photo shoots at parks, backyards, the beach. Then, while auditing an airport at the Cocos Islands, she took a shot of some stunning blue clams in a rustic breeding facility. The photo ended up winning several photographic awards, prompted two gallery owners to ask to represent Alex's work and sparked a line-up of people wanting to buy a limited edition print for $1000 each. "That was a big turning point – it was first time anyone really wanted to pay money for what I did," Alex says.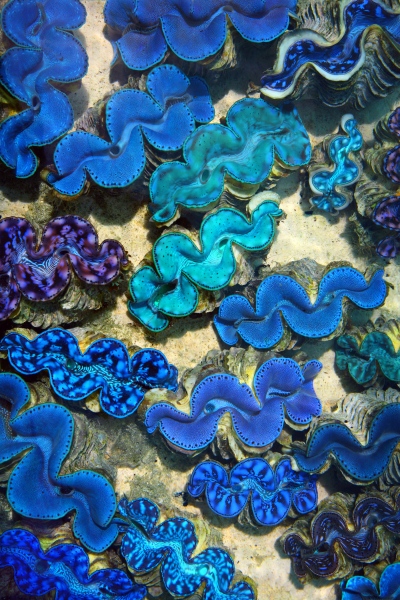 Getting serious
By this time Alex had started photographing RSPCA animals in a studio set up for the organisation's marketing and promotional material. This was more like it. She loved that she could control the environment, the lighting, even the subjects to a certain extent. So she set up a tiny room in the bottom of her garden as a pet photography studio. At the time she dreamed of spending two or three days a week at her government job, and another two or three days doing pet photography. But the demand for her pet photography became so high that something had to give. Alex loved her jobs, but the stress of working long hours was too much.
Terrified, Alex decided to resign from her government job and launch what has become Houndstooth Studio. "I'd spent 19 years in government, had superannuation and sick leave and a fall back," she says. "But to be honest I should have done it a year earlier. I think, as soon as we create space for something it gets filled. If something is only part-time or a hobby you can only ever treat it as that. If you're only giving 50 percent of your time to something, you're only getting 50 percent back."
Alex gave 110 percent and the demand for her studio pet photography skyrocketed. "I can't believe how lucky I am that I get to do this," she says. "Yesterday I had a gorgeous 16-year-old bull terrier with a sulphur crested cockatoo come in for photos. What a dream shoot. To capture them together for that client was just so special."
"If something is only part-time or a hobby you can only ever treat it as that. If you're only giving 50 percent of your time to something, you're only getting 50 percent back."

Alex's studio pet portraits include all sorts of animals.
Giving back
On holiday in Bali, Alex approached Bali Animal Welfare Association (BAWA) about photographing their animals. She wanted to take the rescue pets from their chaotic surrounds and photograph them individually against a bright, white studio backdrop, in the way she did for RSPCA at home. "I wanted to show that Bali animals were as valid and worthy as our pets back at home, and how they deserved the same things our animals need to live a safe and happy life – food, shelter, vet care, a soft bed and a kind hand," she says. She set up makeshift studios in the BAWA clinic and BAWA founder Janice Girardi's jewellery shop in central Ubud and photographed so many animals at such a rate that one of her large studio lights caught on fire!
Among the pets was a puppy with severe mange held in a big pen of about 60 dogs. Alex selected the pitiful creature for a shot, removed her from the chaos and noise, and placed her against the white backdrop. Away from the pack of dogs, with some attention lavished upon her, the puppy transformed. It started 'high fiving' with Alex, and captured her heart. With its protruding stomach, near hairless body and adorable eyes, the puppy became a pin-up for rescued animals. "The photo of her was my first pic that went viral globally," Alex says. "She looks adorable but pitiful, you want to hug her, and she had this look that just drew people in."
Alex conducted a fundraising exhibition to sell copies of the photos she'd taken at the shelter. Some 350 people crowded the exhibition, earning $15,000 for BAWA – most of the funds raised from selling prints of that one puppy.
The next year Alex tried something similar in Cambodia. She photographed exotic rescue animals such as tigers, elephants, otters and bears at Wildlife Alliance's Phnom Tamao Wildlife Rescue Centre, which is also home to Free the Bears Funds' main south-east Asian bear rescue sanctuary. This time the exhibition attracted 700 people who bought enough photos to raise $25,000 in three hours.
While happy at the money raised, Alex is reluctant to bask in the success. There are always more animals in need, there's always more work required. "I love that we've raised money and appreciate that's what we're able to give, but there's always more that needs to done," she says. "Our exhibition donation to Free the Bears paid for formula for all of their resident bear cubs for 12 months, and the annual salary of their keeper. But what about the bear cubs in a year? When that money runs out they're going to need more."
With its protruding stomach, near hairless body and adorable eyes, the puppy became a pin-up for rescued animals.

The puppy in Bali that became a 'pin up' for rescued animals.
World travel
Through Free the Bears Fund, Alex met its founder Mary Hutton who recommended Alex as a photographer to World Expeditions, which runs visits to Free the Bears Fund sanctuaries on some of its itineraries. Alex was excited to donate her time as lead photographer on an animal photography trip to India, which raised nearly $10,000 for Free the Bears.
Honoured to have been selected for the trip, Alex was gobsmacked when World Expeditions asked what other destinations she'd like to visit as expedition photographer. "Scott, the World Expeditions representative, said 'great, we'll do India and what about the rest?' I said 'what do you mean?' He said 'let us know your top six places you want to go and we'll organise it." Alex couldn't believe her luck. She's about to lead a trip to Antarctica for World Expeditions next year, will return to Cambodia and Vietnam next June, and will take photographers on a trip to Sri Lanka to see bears, leopards and visit a baby elephant orphanage in 2017.
For Alex, the best part of the trips is spending time with people who share her love of animals. "I remember in India … we stopped in Jaipur and there was a stunning palace built in the middle of a lake," she says. "My tour group was standing at the railing on the edge of the water and I heard them calling out to me. They were so excited and I looked and they were pointing their lenses down in the mud to rats – water rats had made tunnels in the muddy embankment. They were so thrilled to see the water rats poking their heads out of their mud homes. And I thought 'oh my goodness, these are just the best bunch of animal people. I'm definitely in the right company'."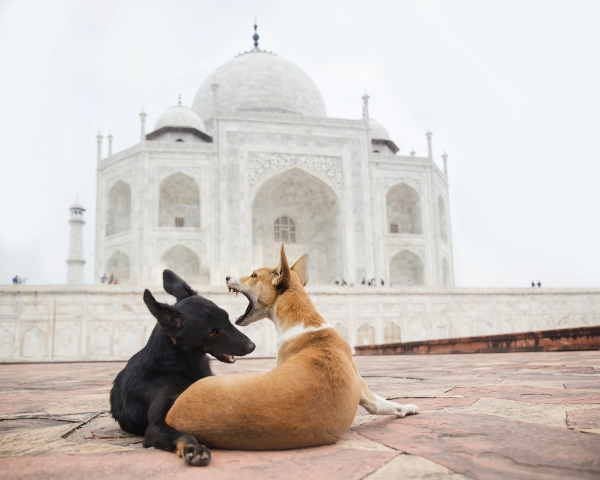 Saving animal lives
While she relishes the chance to travel, Alex is conscious it's her paying pet portrait clients who enable her to live the life she loves. She sees her pet photography not just as her lifestyle, but as a way of promoting the joy animals can bring to people's lives. This is also the ethos behind Alex's books – 'Mother Knows Best – Life Lessons from the Animal World', 'Joy, A Celebration of the Animal Kingdom' and, due out in 2016, 'Zen Dogs' .
"Whether they are local endangered wildlife, abused farm animals, unwanted old pets in shelters, malnourished Balinese street dogs or Asian bears with missing paws, my intention is to capture their faultless spirit in a fresh, new way," she says. "The right image viewed by the right person can mean a dog is re-homed, a donation is made, or that media will run a story to increase awareness, which hopefully, ultimately, will inspire change."
"The right image viewed by the right person can mean a dog is re-homed, a donation is made, or that media will run a story to increase awareness, which hopefully, ultimately, will inspire change."

This dog featured in a photographic series called Perfect Imperfection.