In Lucas and Nic's words …
Who/what inspires us: People who find simple and creative solutions to problems and people who are constantly challenging the way in which things are done.
Best advice: Give it a crack! We all have ideas, it's about getting that idea into action that's the difficult thing so just get in there and do it.
IT'S 6.30am as the bright orange van pulls up by a park in inner-city Brisbane, Australia. Two 21-year-old lads bound out. They stride over to the homeless people who've slept in the park last night. "How ya going mate?" they ask one man. "Got any clothes you need washed?"
Lucas Patchett and Nicholas Marchesi have launched Orange Sky Laundry – a free mobile laundry service – to help people sleeping rough. They welcome people to their van, wash and dry their clothes for free and, while they are waiting, spend the hour chatting with the person who's down on their luck.
This simple formula – cleaning clothes and chatting with the homeless – has proven a winning recipe. Since launching last year with a single van, Orange Sky Laundry now has five mobile laundry vans in Brisbane, the Gold Coast, Melbourne, south-east Victoria and Sydney, with more in the planning. They've rallied together a team of 300 volunteers who have together washed 50,000 kilograms of clothes and spent 12,000 hours chatting with the homeless. In the process the duo have returned dignity to the lives of people doing it tough.
What drives these two best mates to spend their free time doing laundry and hanging out with people that most prefer to ignore by rushing by with eyes downcast?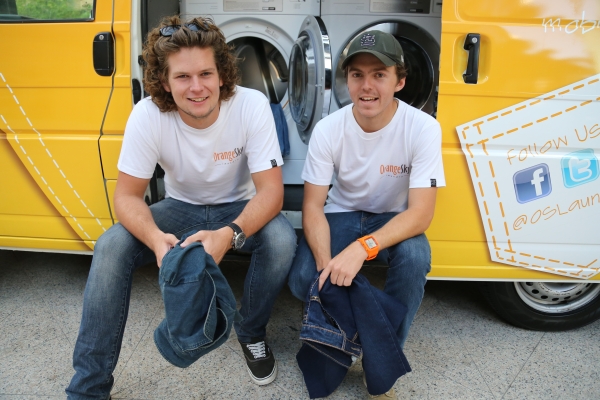 Desire to help
As youngsters growing up in privileged homes, Lucas and Nic knew they were lucky. But it wasn't until they started volunteering with the food vans through their high school that they realised just how fortunate they were. For here they met homeless people face to face and, for the first time, realised they were no different from anyone else, except for a series of misfortunes. So, when they left school, they were keen to continue helping. But without the school organising the logistics, it became more difficult to volunteer.
Their solution? Come up with their own plan to help. At first they considered starting their own food van. But there were already lots of food vans doing a good job of feeding Brisbane's homeless. What else could help these people? "We just thought 'the first thing we do in the morning is get up and put a fresh set of clothes on – imagine if you didn't have the option of doing that'," Lucas says. "So we thought, 'imagine if we could bring a mobile laundry to these people'."
… they met homeless people face to face and … realised they were no different from anyone else, except for a series of misfortunes.
Idea in action
They jumped online and started Googling commercial-grade washers and dryers. But the prices were much higher than they anticipated, and the service schedules put them off. The idea stalled. Lucas went travelling overseas, Nic continued to work fulltime. But when Lucas returned home with a month to spare before starting university, the idea surfaced once more.
"We just thought 'if it doesn't happen now it will never happen'," Lucas recalls. So, again they researched commercial laundry equipment and this time they met with a supplier, Richard Jay Laundry Matters. Within 45 minutes they'd sold their idea and Richard Jay offered them a free washer and dryer to equip their van. "We couldn't believe it," Lucas says. "They were the first people to believe in it."
False start
Now, to install a washer and dryer into the back of Nic's old van. They were advised it "should" fit, but it was going to be close. The duo spent their weekends doing trips to the local hardware store, cutting wood and painting to build a platform that would hold the laundry equipment, all the while desperately hoping it would work out. And it fitted. Just.
Next, getting power to the equipment. They approached Kennards Hire and were again gobsmacked by the support when Kennards donated a free generator.
Fired up about making a difference, they bounded into the van, drove to a local park and pulled up ready to change the world. "When we rocked up it was a bit late and most people had dispersed but there were these two guys there," Lucas says. "Nic went and said g'day while I fired up the machines. But the guys just said nah and it was all a bit strange and they didn't want to do it. And in the meantime I'd managed to fry both the circuit boards in the machines."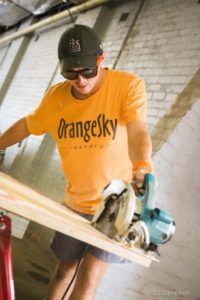 Helping the homeless
But they'd come this far, they had to give it another shot. With the power supply now worked out and the machines repaired they again set out, earlier this time, to the park they'd visited with the school food van. Again they approached some of the homeless. Again they were met with confusion. What? You want to wash our clothes? Why, the homeless asked. But one fellow took them up on their offer.
They got to chatting with him. Again Nic and Lucas were astounded at how easily life can change. "He'd been to a private school in Brisbane, he'd studied a similar subject to me at university and then there were a few life turns that didn't go his way and he found himself living in a park," Lucas says.
"I just thought that could be me in 10 years' time. Sometimes it can only take two or three little things to go wrong – a medical bill, or a car to break down or losing one or two pay cheques – and you could find yourself homeless. Every night in Australia there are 105,000 people sleeping on the streets."
"Every night in Australia there are 105,000 people sleeping on the streets."

Orange Sky Laundry clients.
Conversation helps homeless
The first couple of washes made them realise this service wasn't just about washing clothes.  It was more about spending time with people – an antidote to the averted eyes that the homeless usually experience.
"We thought we might really be onto something – it was a really unique opportunity to have this conversation space," Lucas says. "I'd say it's 90 percent about the talking and 10 percent about the washing. Some of the volunteers say they feel lazy just sitting around talking but we think it's the most important part – that's where the impact happens."
Buoyed by their first day's success, they returned the next day and washed a couple more people's clothes. They started visiting different places, testing to see where the service was most needed. They got a list of all the service centres catering to the homeless in Brisbane and parked beside them – food vans, outreach teams, welfare agencies. Along the way their three main goals crystallised. They made Orange Sky Laundry about three things – restoring respect, raising health standards and reducing strain on resources.
Restoring respect, raising health standards and reducing strain on resources.

Orange Sky Laundry restores respect for the homeless.
 Turning point
While parked outside a Salvation Army outreach centre, Nic and Lucas got to talking to a staff member who was impressed by their efforts. She wondered if they'd be keen on parking the van at the centre for the day, after they'd completed their morning rounds of the parks? That way people could bring their washing to the centre, a move that would make them more inclined to access the services on offer for the homeless.
The van now operates from 9am to 3pm at the Salvation Army centre, doing 10 to 20 loads a day, on top of the morning rounds. "While they are there they can grab a feed and have a chat about things like housing solutions," Lucas says.
Capturing public interest
In the meantime Nic and Lucas began posting their efforts on Facebook – mostly silly shots of themselves fitting out the van. But their wild idea caught the public imagination. Someone shared it on Reddit. And before they knew it one post had more than one million likes. People started offering money from across the globe. Emails poured in. Others wanted to sign up as volunteers. A social investor approached them. They bought another van and kitted it out for work in Cairns. "There were all these people who believed in us – that was the first time we thought 'shit, we're really onto something'," Lucas says.
"… that was the first time we thought 'shit, we're really onto something'."

Fitting out a new van for the expanding enterprise.
Helping the unexpectedly homeless
Then cyclone Marcia smashed Queensland in early 2015. Again Nic and Lucas saw an opportunity to help. They drove the Cairns van to Rockhampton and began washing the clothes of people left homeless from the storm. "We went to this house in Yeppoon that had been really badly damaged and said, 'let us wash your clothes'," Lucas says. "The whole roof had ripped off and the external walls were torn apart. All their clothes were wet and they knew they wouldn't be able to wash them anytime soon, so they'd all be ruined. They had three kids under 10."
So they washed the family's clothes. Word spread. Interest soared. Nic and Lucas worked relentless hours to wash 1000 kilograms of clothes in four days.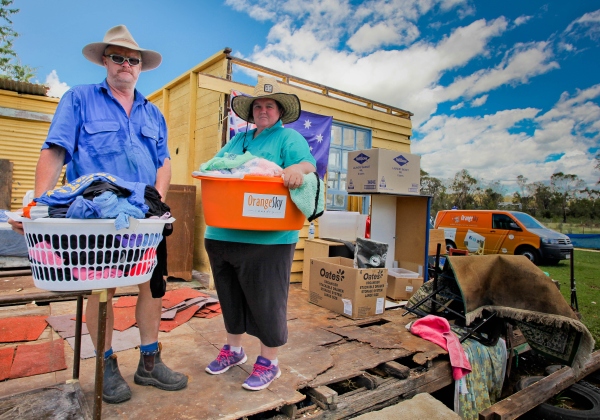 Interest soars
Media began to take an interest in the duo and their unlikely service. Who were these lads from Brisbane with this madcap idea that was making such a difference? They featured in newspapers, on radio and TV. They were in demand to give talks and presentations.
It wasn't long and they'd launched another Orange Sky Laundry van on the Gold Coast, fitted with two washers and dryers. Then came another van in Melbourne, one in south-east Victoria and one in Sydney. Soon they had 300 volunteers a fortnight on the books.
All the while Lucas continued his university studies and part-time job while Nic worked full time. They still pinch themselves at the realisation of how it has grown. "I remember when we were driving into Melbourne, into this community where we knew no-one and being able to wash these people's clothes in early July – when it was really cold and these fellows were doing it really tough," Lucas recalls. "And we thought 'we're just two blokes from Brisbane who had a crazy idea and a few people believed in us'."
"… we're just two blokes from Brisbane who had a crazy idea and a few people believed in us."
World potential
So do they ever have doubts? Do they ever wish they were spending their weekends at the beach and bars like their mates? "There have been a few nights when we've had no sleep when it gets hard," Lucas says. "And we can feel a bit uncomfortable when we're interviewing people for volunteer roles like service managers – some of these guys have resumes twice as long as me and I'm interviewing them! It's scary but it's also exciting – no-one is doing this anywhere else in the world so it has world potential."
Nic and Lucas have also started hiring the homeless to help operate the vans – a move they hope to expand so that, eventually, at least 70 percent of their staff are people who once slept rough. And they're constantly inspired by the people they meet, whether it's a homeless person or the CEO of a multimillion corporation. But for them the main reward is giving homeless people two simple things that they all crave – dignity and respect.
The main reward is giving homeless people two simple things that they all crave – dignity and respect.
Get involved …
You can support Orange Sky Laundry's efforts by making a donation, or volunteering. Find out more via the website http://www.orangeskylaundry.com.au