Our latest Inspired contributor is Phoukong. This young woman has taken up the challenge of finding employment – not an easy task in a country with limited opportunities for most, and made more challenging when you add disability to the mix. Phoukhong reminds us that, with support anything is possible.  She is a young woman making the most of opportunities that present to her, and when women have access to decent work,  they can create new futures for themselves and their families, not otherwise thought possible.
This is another in our series of Inspired stories from women in Laos.
Find out more about how I was inspired to share this series of Laotian women's stories with you here.
Tell us about yourself 
I'm Ms. Phoukhong Phengsy (Phoukong), I am currently working with Asian Development of Disabled Persons organisation ADDP, Thaphalanxay village, Sisattanak district, Vientiane Capital Laos.  I work in the Cookie team, making cookie products.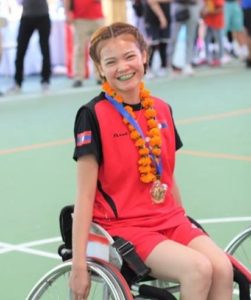 What has been your journey of disability?
I am 21 years old and both my legs are affected by polio that I have had since I was born.
Are there things about you that people misunderstand because of your disability?
The thing that people misunderstand is my disability.
Who inspires you? 
The people inspiring me are my family, especially my father and mother, who supported me when I studied at primary school, Khong district and Champasak province.
Which three words would you use to describe yourself?
Yes, I can.
What's one thing that someone has taught you that completely changed your life?
The person who always taught me, who encouraged me is my brother. He supported me to come to the Centre for Medical Rehabilitation at Vientiane to get rehabilitation and supported me to apply to train and work with Asian Development of Disabled Persons (ADDP).
Who or what has been the most significant influences on who you are today?
My brother and my teacher Mr. Saito, he is a Japanese teacher and Ms. Manichanh, she is also a disabled person.
What's one thing about you that surprises people?
That I can do anything like general people.
For what are you most grateful today?
That I can get a job and know I have knowledge to make cookies.
Knowing what you know now, what advice would you give your 18-year-old self?
I must study harder than I did to help me get a higher education.
Is there something that you would like people to know about you or about people with disability that they might not know?
Disabled people also can do everything like general people – do not look at disability, but look at Ability