There is a great deal of ongoing discussion around the need for honest representation of disabled people within the media, how people with lived experience need to be driving the way we are portrayed – in all our diverse and uniqueness. We have many wonderful examples of people with disabilities breaking down the barriers and creating a new reality of stories and images around disability and what it means for so many. I understand the power of representation and how when you don't see yourself reflected back at you it makes self acceptance and possibility thinking that much harder. Tiffiny Carlson is one woman who also struggled to find other women with disabilities to relate to and seek reassurance from.  Tiffiny has since found her voice and is determined to share it for the benefit of others. I am so happy to share her story with you.
Tell us about yoursel
I am a 41 year old woman living in Minnesota, United States. Not married, no kids but have a fabulous boyfriend and career.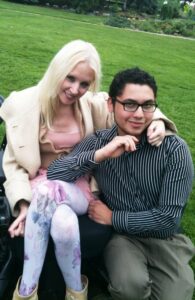 What has been your journey of disability?
I was injured in 1993 just two weeks before starting high school. I was injured in a diving accident while playing around with friends on a lake I grew up on. One afternoon while arriving to hang out with my peers, they were doing stunts off of a playground slide that was in the water. One of the cute boys asked me to dive off the top, which I should never have listened to. Sadly, it resulted in breaking my neck at the C5-6 level. At the time of my injury, I did drown since no one knew I was paralyzed. It was incredibly scary. Thankfully, someone at the beach that day knew CPR and saved my life.
I went through some terrible depression the first few years, but soon discovered that I could still be fabulous and beautiful. This was not easy however. Being rejected by many high school boys was very hard. I thought I could no longer be beautiful. But it was the mid 1990s and there was no Internet, or barely, so I had no fabulous women to look up to. Thank God for social media today for everybody that is newly injured.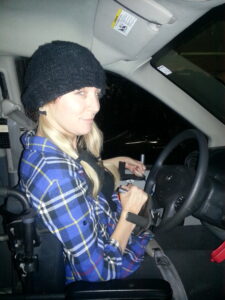 What do you do with yourself?
I am the executive director of SPINALpedia.com. I have been doing this for over 8 years. This is a nonprofit that helps people with new and old spinal cord injuries transition into a full life. I'm able to work from home, which is great. It is awesome helping people from sharing research to writing articles highlighting cool people. I also host the podcast called Life After Paralysis. I get to  interviews guests from all areas of life with a spinal cord injury, highlighting important topics within the paralysis community from spinal cord injury research and advocacy to lifestyle topics.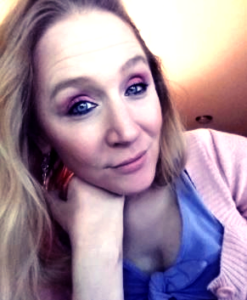 How did you come to doing what you do?
When the Internet became big in the nineties, I fell in love with it right away. I began a web site called Beautyability where I want to share with a world that women who use wheelchairs can still be beautiful and sexual if they wanted. I had just graduated from college in 2001 with a Bachelor's in Mass Communication. I knew I wanted to help people with disabilities with my words in some capacity.
Fortunately, I was able to get an amazing job with New Mobility Magazine (a prominent US disability magazine) in 2003, writing the SCI Life column for over 13 years. Since 1998, I have written for dozens of disability websites, publications and have hosted many disability podcasts. I feel that I turned a negative situation like my injury into a positive by using my communication skills to help the community.
"I feel that I turned a negative situation like my injury into a positive by using my communication skills to help the community."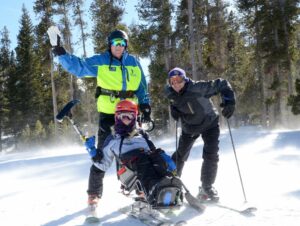 Why (do you) think representation of people with disabilities is important in all forms of media ?
People need to see themselves in the media that they absorb. If they do not, they will only think of themselves as less than and this is perpetuated through every type of person that is not represented on screen. People with disabilities have been under represented the media for too long. I'm happy to see this as changing however. I heard that netflix is putting a lot of money into making sure more actors with disabilities for example are hired.
"People with disabilities have been under represented the media for too long"
Can you tell us about your thoughts around why publications/platforms such as those you have been involved in are necessary for their specific audience?
I have been working for disability publications for over two decades. New mobility Magazine which has been around since the 1980s is considered one of the best disability magazines in the United States. This magazine shares stories that you'll never find in any other publication and are really critical to PWD.
What would you say is your greatest strength?
Highlighting important people and things in sharing them with the world
Are there things about you that people misunderstand because of your disability?
Without question. People often think that women who have spinal cord injuries are not sexual, or do not like sex. This is one that I have been battling since my injury. I've also read into a common stereotype that my boyfriend must also be a wheelchair user, which is just ridiculous. Lastly, many people automatically assume that we must all be depressed, which also drives me mad.
What is one thing, experience, or person you have had that completely changed your life?
If it wasn't meeting Steff, a paraplegic I met in rehab in 1997, I don't think I would be where I am today. She was essentially what I am today – confident, stubborn and unafraid excited about life. Sadly she passed away in 2005 from kidney failure, but what she taught me about life with a spinal cord injury and how to survive changed my life.
Is there a single piece of technology that makes your life easier?
Other than my personal computer and my cell phone, discovering voice activation technology has been huge for my writing career. I waited many years to start using it, since I can type with one of my fingers. But it has been truly revolutionary. I just use Windows speech recognition and a Samsung mic.
What's one thing about you that surprises people?
Other than I have breast implants? Ha. Well people are always surprised by my interesting dating history and the fact that I can drive. People really have low expectations of people with spinal cord injuries
For what are you most grateful today?
The sunshine and having caregivers I can rely on.
Knowing what you know now, what advice would you give your 18-year-old self?
Do not let yourself get easily ruffled. Put your nose to the grindstone and stay tough. Things always will work out.
Is there something that you would like people to know about you or about people with disability that they might not know?
We're not fragile. Just because I'm paralyzed doesn't mean you can easily break me or that I am near death. We can live regular life spans and be quite strong.
Best advice that you would like to share with other women who live with disabilities?
You are beautiful in your own way. Do not let anyone or anything prevent you from believing that. Women with disabilities can be just as beautiful as any other woman. You just have to believe it. Sitting or standing doesn't make a difference.
"You are beautiful in your own way. Do not let anyone or anything prevent you from believing that"
For what would you most like to be remembered for?
Refusing to let a little thing like paralysis stop me from living my life as fully and amazingly as possible.
Do you have a way for people to connect or follow you that you would like me to share?
Definitely! You can contact me at tiffinycarlson@gmail.com or you can contact me on IG at @tiffcarlson. You can also check out my web site that is still up – Beautyability.com.