[divider]
Who/what inspires us
: Our recipients – meeting them, hearing their stories and being able to help at such a hard time for them is what motivates us to keep raising money.
Motto:
 Our charity adopts a values approach – Contribution, Community, Integrity and Compassion.
Best advice
: If you have the power to make a difference, do it.  The world needs more of that.
Power of community
: The Mid West community IS the charity – they are the ones making a difference. [divider]  
At 30 weeks pregnant, Linda Mason was feeling uncomfortable and exhausted on the day her life changed forever. She'd taken her two-year-old Ethan to swimming lessons, where his instructor said he looked unwell. Linda hadn't really noticed. He'd been a bit tired but was otherwise fine. But when Linda's Dad echoed the swimming instructor's concerns she called the doctor in her hometown of Geraldton. A junior doctor called them in, saw Ethan, and suddenly turned pale. He called a more senior doctor. Linda's pulse quickened. Rush him to the hospital, they instructed. Fear grasped Linda's heart. One blood test later and doctors scrambled to organise an emergency transfer to Princess Margaret Children's Hospital, 450 kilometres away in Perth. Panic. Linda's husband Aaron wasn't answering his phone. They thought it could be leukaemia. No, not this. Not a possible death sentence to her bright, beautiful, blonde baby. [divider]
No, not this. Not a possible death sentence to her bright, beautiful, blonde baby.
[divider] In Perth they confirmed the worst. Ethan had acute lymphoblastic leukaemia. He was in a fight for his life. They'd have to move from Geraldton to Perth for at least six months of chemotherapy treatment. The new baby was due to arrive within weeks. They couldn't all squeeze into her brother's apartment in Perth. But how could they afford to rent in Perth and meet the mortgage repayments at home? With a newborn on the way and daily trips to hospital required for Ethan, Linda needed Aaron by her side. But his job was back in Geraldton. This couldn't be happening. How on earth would they cope?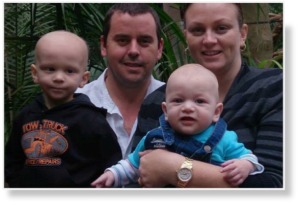 Easing the pain
Step in Mid West Charity Begins at Home Inc (MWCBH). This Geraldton-based, volunteer-run charity got wind of the Mason's predicament. The charity had formed in 2008 with the sole aim of providing financial relief to people stricken by serious illness. They sent a cheque and Linda finally felt she could breathe again. They weren't alone. And this, says MWCBH president Chris Dobson, is what the charity is all about. "It's about helping to take the pressure off financially at a time when people need it most," Chris says. The Masons are among 90 Mid West families to have received financial support from MWCBH since its inception. This year alone the charity has raised $850,000 for seriously ill Mid West people. And it has achieved this through the work of a committee of volunteers who dedicate much of their lives to the cause – all without payment themselves. So what drives them to donate such enormous amounts of time to raise money for people they don't even know? And what's the secret of their massive success?
Triumph from tragedy
Rewind to 2008 and Geraldton woman Julie Camp was sitting in a doctor's office when her world came crashing down. You've got stage three breast cancer, the doctor announced. It's aggressive. The worst type of breast cancer you could get. The room spun. Shock set in. Julie had two kids at home. She was a single mum. What if she died? Who would look after her kids? A whirlwind of treatment followed – a mastectomy, chemotherapy, radiation treatment. She couldn't possibly work. There were days she couldn't get out of bed.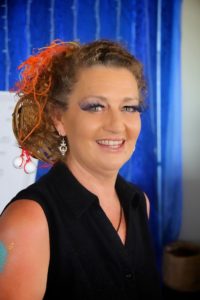 "I rang my aunt Ros (Worthington) bawling," Julie remembers. "I just said I've got two kids, I'm a single mum, I can't work, how am I going to afford this?" Having worked for several charities, Ros was used to fundraising. She called her nieces Tara Luff and Chris Dobson in Geraldton. Ok girls, she announced, it's time to get to work. They enlisted the help of a friend, Caroline Pettet. And the foursome rallied into action to fundraise for Julie. "We were kind of just – well what the hell do we do?" Tara remembers. "We really had no idea but we thought we'd give it a go." They decided on a fundraising gala dinner with the aim of raising $10,000 for Julie. They got on the phone, hit the streets and, within five weeks, they'd organised a dinner for 120 guests, with a fundraising auction of goods donated by local businesses. By the end of the dinner they'd raised $38,000. "We never expected to raise that kind of money," Tara says. "We were so happy we could help her. On the night I remember just standing there being so overwhelmed. Julie's kids were there. They were stoked. The family was crying. The whole night had so much emotion." The feeling of satisfaction Tara, Chris and Caroline experienced was life-changing. And what started out as a one-off fundraiser became an annual event. The second year, 2009, the charity helped another three families, another three the year after that. Things were getting serious. They formed a registered charity, which required a committee of seven. Others came on board. Momentum increased. "It was so exhilarating to be able to help in that way," Tara says. "And that's an addictive feeling. Going to see the recipients, sharing their stories, becoming part of their lives, it's amazing." Chris agrees that the feeling of helping out is addictive: "There's the adrenaline rush of the (gala dinner) and the feeling you get when you go out to hand over the cheque. You enter the house of a complete stranger, walk into their lounge room, have a cuppa and hand the cheque. It changes their lives and that feeling is so addictive. You hear a lot that you get so much more than you give but it's so true." [divider]
"It was so exhilarating to be able to help in that way."

[divider]
By the end of the 2013 gala dinner MWCBH had handed out $1 million since its inception. At this time the Mason family had just returned to Geraldton after enduring 10 months of treatment for Ethan in Perth. They arrived home without a cent to their name, when MWCBH presented another cheque. The Mason family attended the MWCBH gala dinner where Ethan received a giant green bike and a bucket of toys. Linda remembers the relief at their homecoming. "We really wanted to be home for the charity dinner ­– it was so great to be able to celebrate being back. I remember getting home and crying – I literally kissed the ground."
Coping with grief
Of course, for the MWCBH committee, becoming close to those with serious illness has its downside. Some lose their battle with life-threatening illness. And yet the committee gains strength in the knowledge they've helped ease someone's final days. "The recipients are such beautiful people," Chris says. "They manage to be so positive, and so grateful. So it can be really heartbreaking (to lose someone). It affects all us girls on the committee, especially if you've been the one to visit them and hand over the cheque. But we just know that we've made that road a little less rocky, a little less difficult for them and that gets us through." Tara remembers being particularly traumatised by the death of a child recipient Alex Ashworth-Preece. "He was such a larrikin, such a beautiful kid and I got on really well with his parents," she says. "But he did pass away two years after (he received MWCBH help). He was the first child. Having kids yourself, it just breaks your heart to see a family lose such a smart, really cheeky, gorgeous soul."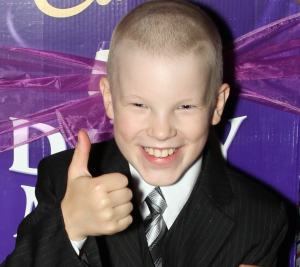 For Chris it was an elderly couple that really touched her heart. "There was one lady and gentleman and they were living on food vouchers, they didn't have a kettle, didn't have a toaster and (after receiving the money) she was just so excited to be able to buy a pair of slippers for him," Chris says. "I just think of the relief he would have felt to know his wife was (financially) ok." [divider]
"Having kids yourself, it just breaks your heart to see a family lose such a smart, really cheeky, gorgeous soul."

[divider]
Fundraising phenomenon
On November 29 this year some 420 Mid West residents prepared to look their very best. Women deliberated over ball gowns, visited salons for hair, nails, make up and fake tan. At 6pm they descended on a sumptuously decorated hall to sip cocktails and dine on seafood canapés. Inside the hall they eased into chairs set at tables draped in folds of white, admired handmade table centrepieces, and gasped in delight at the elegant handmade bracelets gifted to guests. Author Peter Fitzsimons welcomed the crowd as MC and, later, the auctioning of 20 packages had the city's movers and shakers clamouring to win their bids while dining on a three-course meal. A pearl ring went for $17,000, a One Direction package for $11,000. Next a representative of Redink Homes Midwest presented funds pledged to MWCBH through the sale of a newly built charity house. As he presented a cheque for $550,000, the crowd went wild, confetti rained, champagne bottles popped. By the time the dance floor had cleared at the end of the night, the committee had raised another $850,000 for their cause – through the sale of the house, gala dinner tickets and a specially created cookbook. For the committee, the frenzy of activity, the sheer volume of hard work, was suddenly worthwhile. They were gobsmacked by the fundraising success. [divider]
 …the crowd went wild, confetti rained, champagne bottles popped.

[divider]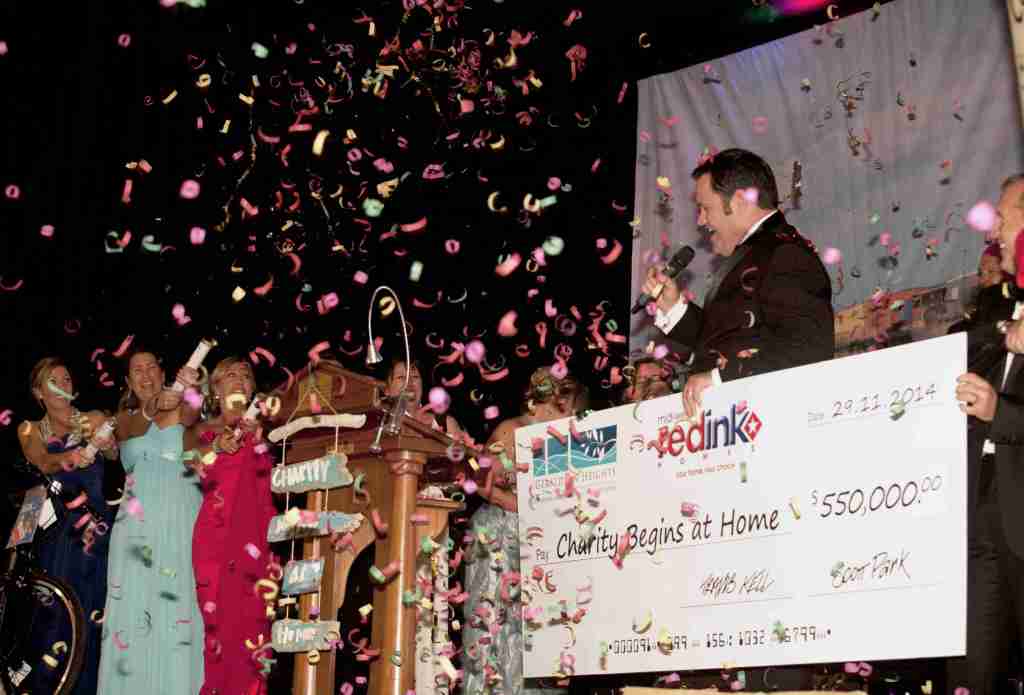 Chris believes the secret to the wildly successful fundraising is a generous local business community and the promise to keep the money local. "I believe it's because every dollar given out stays in the Mid West," she says. "With other charities you may give away $100 and never see or hear about it again. But with us, a lot of the time people know who the money is going to. And because we're not paying wages, the money goes directly to the people who need it. I think it's a model that could work in any community." Among the crowd that night was Julie Camp, whose battle with cancer unwittingly started this fundraising phenomenon. She had offered to work as a waitress to help the charity that had eased the pain of her darkest hours. After being re-diagnosed with cancer of the spine in 2011 and being told to "get her affairs in order", she sought a second opinion, embarked on new treatment and continues to keep the cancer in check while working and caring for her kids. Also following the charity's success this year were Linda, Aaron, Ethan, Reece and their extended family. Linda's mother Annette Evans had been diagnosed with breast cancer while Ethan was receiving treatment and embarked on chemotherapy at the same time. Living with serious illness had become second nature to this family. Sitting in her Geraldton home, four-year-old Ethan, frolicking nearby, Linda looks back on their journey. She remembers the Christmas just after his diagnosis. She was lying in bed with Ethan on Christmas Day, stroking his soft blonde hair when it began falling out in her hands. She had been waiting for this. But the reality struck hard. Now, with Christmas approaching two years later, Ethan is in much better shape. He continues to receive chemotherapy and a cocktail of other drugs, but he's well enough to go to kindy next year with his friends. They've just moved into a bigger house. Linda's mum's cancer is in remission. For now, the nightmare of two years ago is over. For now, they are daring to hope for a brighter future.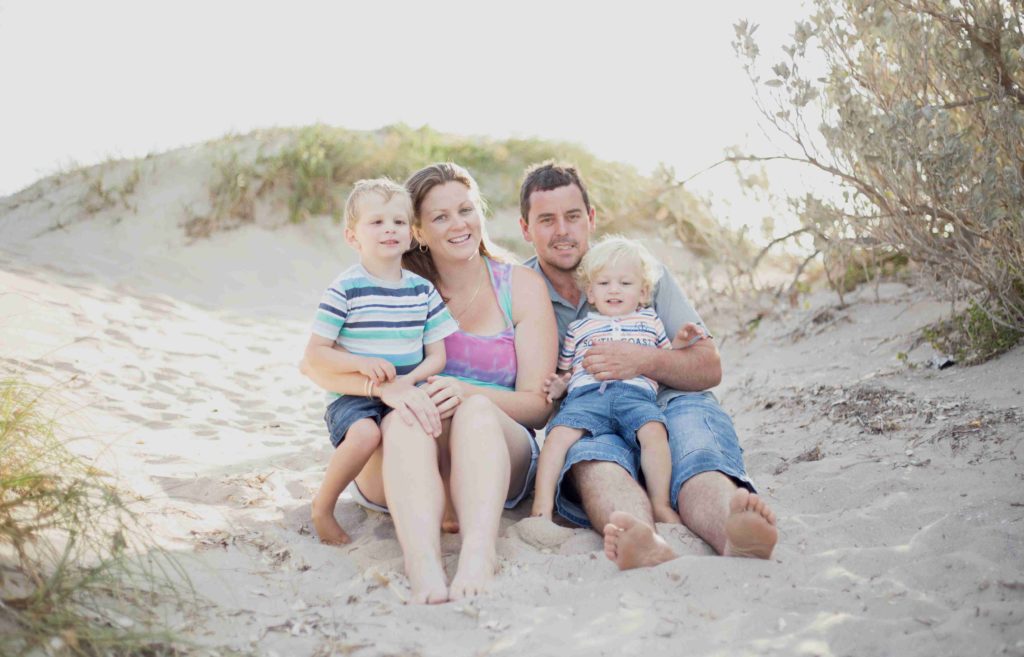 Get involved:
You can support the desperately ill in the Mid West by making a donation to MWCBH or donating items for auction at the 2015 Gala Dinner. Find out more at www.charitybeginsathome.org.au.
 To start up a similar charity in your community, contact the MWCBH committee via its website www.charitybeginsathome.org.au.
 People in the Mid West dealing with serious illness and suffering financial strain can apply for MWCBH help via its website www.charitybeginsathome.org.au
Current MWCBH committee: Chris Dobson, Anne-Maree Hopkinson, Maree Kennedy, Sonya Lambden, Renee Doyle, Amanda Miragliotta, Lisa Pirrottina, Peter Brown.