In Danielle's words …
Who or what inspires me: People sharing their gifts with the world.
Best advice: A Joseph Campbell quote: "Follow your bliss and don't be afraid, and doors will open where you didn't know they were going to be."
When Australian woman Danielle Begg stepped into the Hackney Yoga Project in London she knew she'd found something special. Here was an oasis of calm at odds with the grey streets outside. A place where asylum seekers and refugees – many having suffered torture, sexual violence and human trafficking – could experience the healing power of yoga.
For many of the refugees, yoga was a foreign concept, and yet they came to regard their time here as a highlight of their week. They'd leave homes often hours away from the yoga studio, trudge through cold streets and heaving tube stations to get here. The Hackney Yoga Project, now called Ourmala, provided the space, the time and the technique to still the troubled minds of people reeling from horrific circumstances.
Inspired by the magic she'd witnessed in Hackney, when Danielle returned to Australia she launched a similar project – the Refugee Yoga Project in Sydney. Like the organisation that inspired it in London, the Refugee Yoga Project is bringing longed-for moments of peace, positivity and calm to people who've fled their homes and are battling with the hardships of re-establishing their lives in a foreign land.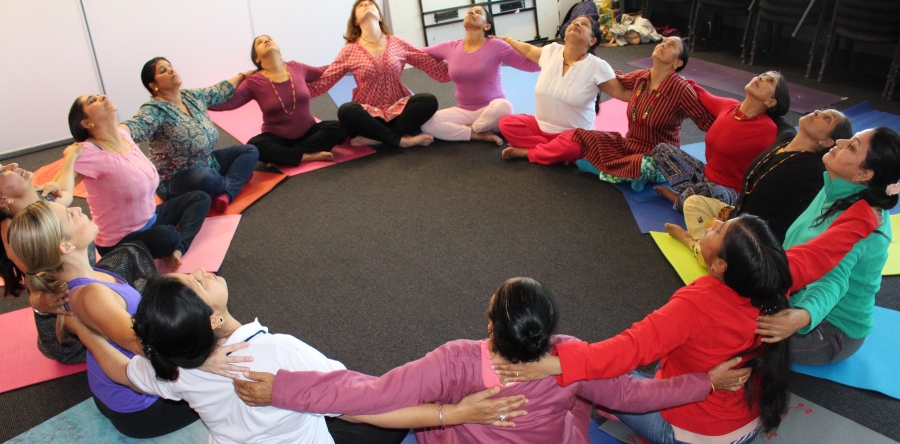 Yearning to help
Even as a kid Danielle knew she wanted to help the less fortunate. She remembers watching her parents run their not-for-profit organisation which, as part of its services, helped resettle refugees into new housing. Danielle remembers being intrigued by these people, learning of the traumas from which they'd fled, and yearning to help them.
When it came to studying, Danielle embarked on a Bachelor of Psychological Science (Honours) at the University of Queensland, believing it would help her to make the most positive difference. She later obtained a job as an advisor on social policy to the Federal government's immigration section and later still worked at the Centre for Social Impact in Sydney. Convinced she'd be able to make the biggest impact by influencing social policy, Danielle decided to move to the UK to study Comparative Social Policy at Oxford University.
Unsettled mind
At the same time Danielle felt unsettled at the way her mind raced with ideas, concerns and world troubles. She turned to yoga to seek calm. "I was seeking more of a connection," she says. "I was in my head a lot and was looking for a way to quieten my mind. I found yoga allowed me to have a quieter mind, to connect with my body – and once I'd experienced that, it was so good I wanted to share it with others."
So, after graduating from Oxford Danielle and while working as a research consultant at Oxford, Danielle studied to become a yoga teacher, later teaching yoga to her fellow students at Oxford University.
It wasn't until she stumbled upon Hackney Yoga Project that Danielle realised she could combine these seemingly disparate qualifications in psychology, social policy and yoga teaching, into a single force for good.
"… yoga allowed me to have a quieter mind, to connect with my body."
Test project
Back in Australia Danielle dreamed of helping refugees through yoga, in the same way she'd witnessed in London. But where to start? How to attract people who'd never heard of yoga, who were most concerned with learning a new language, getting jobs, feeding their families and grappling with a new culture?
Trawling through the internet Danielle came across the Vasudhara Foundation, which supports social entrepreneurs to make a difference. Recognising their mutual values she pitched her idea to the foundation, which went onto co-found the project, fund Danielle to create a two-month pilot project in February last year and go on to fund a year-long evaluation and study on the project's impact.
With Vasudhara's support, Danielle teamed with five organisations in Sydney to provide five yoga classes a week to 64 refugees and asylum seekers.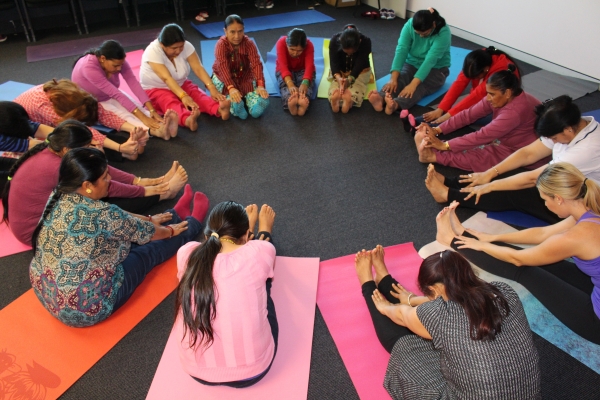 Fear of failure
Standing in front of a group of refugee Middle Eastern women at one of the early classes, an interpreter deciphering her words, Danielle feared her idea may flop. But a few brave women ventured to the front of the room and decided to give this yoga concept a shot. More timid souls sat in the background and watched. "I genuinely wasn't sure if they would like it," Danielle says. "But I was very surprised how enthusiastic they were and how much they wanted to keep doing it." The class sizes grew as word spread.
Other classes were easier, including classes of refugees from Bhutan and Sri Lanka who were familiar with yoga. So much did one group of Bhutanese women enjoy the classes that their husbands protested it wasn't fair, so now Danielle runs a men's class as well.
Such was the popularity of all the classes that they continue to run today, well after the completion of the two-month pilot project.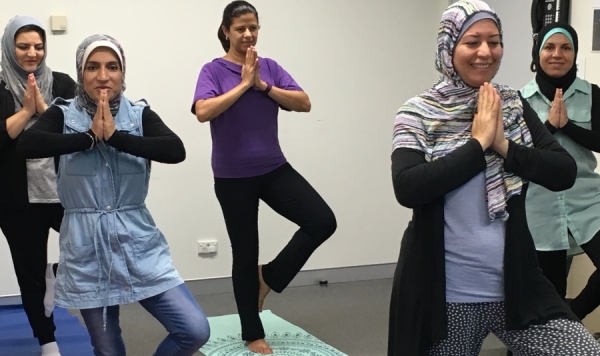 A positive impact
In partnership with Vasudhara and New South Wales Service for the Treatment and Rehabilitation of Torture and Trauma Survivors (STARTTS), Danielle has continued the classes, today offering up to eight classes a week to more than 100 men, women and children. Together, they have also been conducting an extensive series of standardised testing to work out if the yoga is in fact having an effect on helping refugees with post-traumatic stress disorder, anxiety and depression.
While the numbers are still being crunched and the results examined, Danielle says the anecdotal feedback and information shared through interviews with counsellors has been excellent. "They say they feel more relaxed, less anxious, less worried and they describe having less pain," Danielle says. "They really appreciate coming together to do something positive for themselves, and make friends."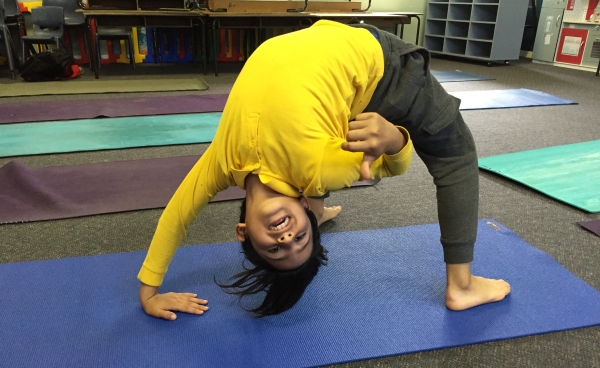 Dreams of expansion
Danielle herself has also blossomed by having found an outlet to help the very people who'd intrigued her in her childhood. "I feel very lucky – first to have found yoga for myself and then to be sharing these tools with other people," she says. "My goal is to expand it as a tool to not only help refugees and asylum seekers but anyone dealing with post-traumatic stress disorder, anxiety and depression. Yoga really does have the power to make incredible change."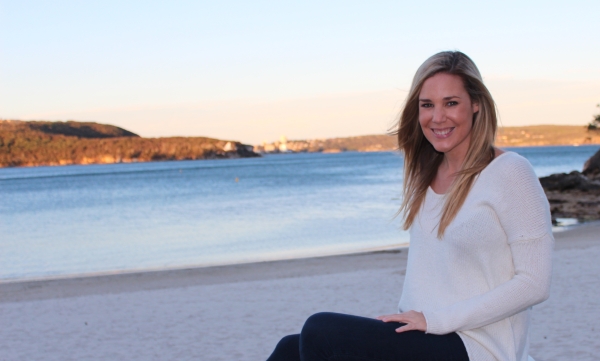 Get involved …
You can find out more about Danielle and the Refugee Yoga Project, and support its work, online at www.refugeeyogaproject.com
You can find out more about the work of the Vasudhara Foundation, and support its work, at www.vasudhara.org