In Liz's words…
Who or what inspires me:  Richard Branson, my family.

Best motto: Always dare to dream.
Liz Volpe was chatting with a teenage girl in Cambodia. The girl's face was horribly disfigured. The operators of a begging ring had doused her face with battery acid when she was a child on the streets in Thailand. The more terrible her scars, the greater the chance of a few pitiful dollars thrown her way as she begged.
But Liz didn't see the scars. She didn't dwell on the girl's painful past. What she saw was far more powerful – Liz saw potential.
As a successful Australian entrepreneur, Liz was used to identifying potential in her staff. But how could she help this young woman reach her potential? How could she help any of the kids at the charity Sunrise Cambodia that she was visiting on this short stint away from her business at home?
"She didn't dwell on the girl's painful past. What she saw was far more powerful – Liz saw potential."
Daring to dream
It was a question that stayed with Liz long after her return to Australia. She considered her nice house, her fancy car and the multiple offices of her ever-expanding marketing business. She'd wake up in the morning and wonder. While she loved the thrill of entrepreneurship, she also pondered what more could she offer?
Eventually her partner had had enough. "Look," he said. "This feeling is obviously not going to go away. We need to work out how you can help." So Liz asked herself what she did know. She considered the things she was good at. The answer? Business.
Entrepreneurs are born
Liz would teach the kids like the young woman she'd met in Cambodia the entrepreneurial skills they needed to get a leg up in life and escape the poverty cycle. She gathered a collective of leading Australian entrepreneurs and CEOs looking to empower and educate the next generation of world changers and together they launched Project Gen Z. Then, in 2015 they went back to Sunrise Cambodia, where Liz had met the girl with the burn scars.
Some 100 teenagers and young adults turned out for the one-week Dare to Dream workshop. Most didn't speak English. But, through an interpreter, Liz and her fellow entrepreneurs began teaching basic business skills. The students learned about target markets, negotiation, re-branding, establishing price points and sales. And, eventually, they were challenged to launch a business in a day.
In teams of about 15, they set out with $100US with the challenge to increase the amount by the end of the day. Any profits they earned would go back to Sunrise Cambodia to educate the kids. And they'd go into a grand finale live pitch event, with the winner receiving $1000US to launch their own business or further their education.
One team headed to the fruit markets. They bought the best fruit they could see, cut it up, branded it with fancy wrapping, came up with the right price point and sold it in the right area. They made $450US in two hours.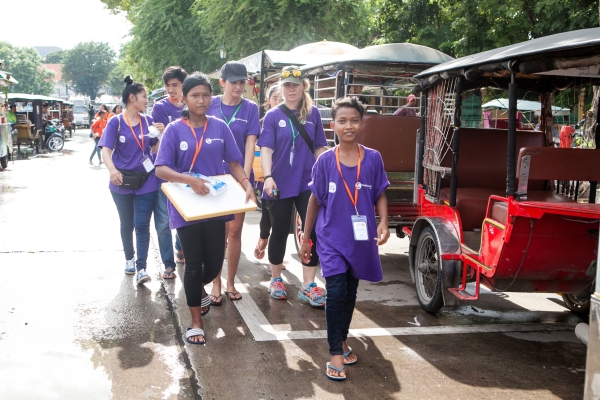 Transformation through confidence
Liz says it was astounding to watch the youths transform as their confidence grew. "At the start they were very timid, very quiet," Liz says. "But then we taught them the skills and let them go, with each team guided by an Australian coach. We pushed them but we also let them make their own decisions. There were tears. It was hard. But the results transformed them. They took on this whole new level of confidence."
So successful was the workshop that Project Gen Z returned the next year, and the next. They have since raised $450,000 for Sunrise Cambodia.
Several of the attendees of the Dare to Dream workshops have gone on to launch their own businesses – enterprises such as street stalls and online stores. Almost a quarter of them have decided to further their education. And their average income has risen by 11 per cent.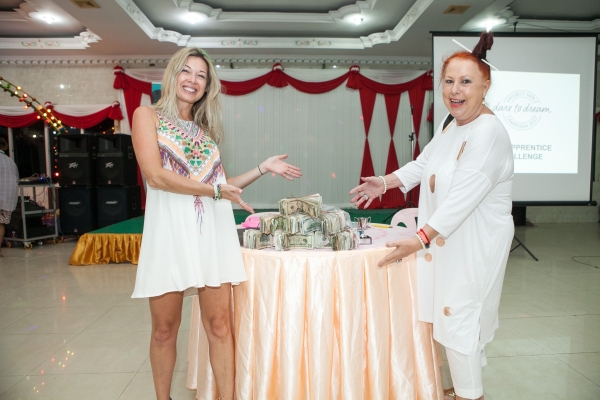 Discovering her purpose
In helping these young Cambodians to help themselves, Liz also transformed her own life. "I feel like this is the reason I was born," she says.
It's a dream come true for a girl who once lived in a caravan with her close-knit family outside Manchester in the UK. As a kid, she'd struggled at school. She just wasn't interested. And it showed in her grades. She still had no idea what she wanted to do when she left school. She'd had 30 jobs by the time she was 21, ever searching for something she was good at, something she loved.
Eventually Liz backpacked to Australia where, in 2001, she and got a job to fund her travels – this time as a face-to-face marketer. While most abhor such direct sales work, Liz found she was good at it. Her confidence grew. By 2006 she'd launched her own marketing company, Zest Possibilities, in Melbourne.
Within three months of opening she opened another office in Sydney. Six months later she opened in New Zealand too. "Oh my god it was amazing," she says. "I remember the feeling of success I got when I first got on a plane to fly to one of my other offices. For the first time in my life I felt like I was in control. The writing of the cheque at the end of each week and the business results were a direct reflection of my own hard work. But, while at first the money was exciting, I came to realise just earning money for money's sake wasn't in alignment with my values."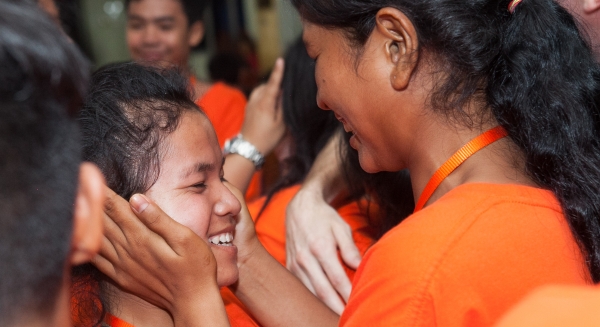 League of Extraordinary Women
As her business grew, Liz began to lament the dearth of other women CEOs. After one event in which she and a handful of other women business leaders found themselves in a roomful of around 500 males, they decided to organise a women-only business networking event. So popular was the event, and so great the demand for women entrepreneurs to connect, that Liz co-founded the League of Extraordinary Women. The league now has 160,000 members from across the globe.
Reason to get out of bed
Despite her many successes, it is Project Gen Z of which Liz is proudest. "It's the reason I get out of bed each morning," she says. She has also rolled out the Project Gen Z educational program in some Australian schools and as school holiday workshops, with money earned from the entrepreneurial programs funding the social enterprise's other work.
And she's now set her sights closer to home, with Project Gen Z scheduled to take a Dare to Dream workshop to an Aboriginal community in northern Queensland later this year. In partnership with the Seed Foundation, the workshops will launch in Palm Island and Abergowrie.
Like the Cambodian program, participants will learn key life and business skills which culminate in a real life business challenge to launch their own mini business. The winner at the end of the program will receive a 12-month mentoring program and a grant to help make their dream a reality, whether through further education or the launch of their own business.
Casting her mind back to her own childhood, as a kid in a caravan with no idea what she wanted to do with her life, Liz hopes Project Gen Z and Dare to Dream will make the road easier for others. "The goal is to help young people – no matter where they are in the world or what circumstances they are born into – to be able to access this education," she said. "When young people are given a chance to pursue their dreams, the world can only benefit."
And when young people are given the chance, individuals like the girl with the acid scar burns have a new hope for a brighter future.
"When young people are given a chance to pursue their dreams, the world can only benefit."
Get involved…
Find out more about Project Gen Z through its website www.projectgenz.com.au/.