Finding inadequate options available to support her journey to return to a quality of life she desired, Amanda Perla-Jereczek created her own, and in doing so, made sure the opportunities to do so were also afforded to others like her.
Reading Amanda's story resonated with me, her story demonstrates how to live with resilience and drive.  It serves as a reminder that we can all make a difference, and in doing so reclaim who we are and our place in the world.
I hope you enjoy meeting Amanda on the Platform, I know I did.
Tell us about yourself
Hi. I am Amanda Perla- Jereczek (newly married!) I am 31 years old and I am from Longwood, a suburb just outside Orlando, FL. I was born in New Jersey but after a Federal disaster left
my apartment complex leveled by fire, I moved to Florida when I was 5. Because of my northern roots and my family, I am a huge New York Mets fan. Traveling the country to different ballparks to watch the Mets play has become a favorite pastime of mine. Growing up I danced with a local company for several years, traveling around Florida and competing.
Later, I was on my High School Dance team as well. I was always very active and I enjoyed being adventurous and trying new things! Now a days, I still love going to the beach and spending time with my family and friends. I co-founded and work for NextStep Orlando Paralysis Recovery Center, a 501(c)3 non-profit organization. I am committed to my recovery program and dedicate as much time as possible to adaptive fitness and Neuro rehab.
I have also taken up hand cycling and was able to complete a 10 mile race last fall! I have a passion for helping people find hope again after a spinal cord or other life changing injury.
Can you tell us about your journey of disability?
My journey began on April 21, 2007 when I was a passenger in a car accident that left me paralyzed from the chest down. I broke my C6 vertebrae and almost completely severed my spinal cord. I did my in patient rehab at Shepherd Center in Atlanta but after returning home, I became very frustrated by the limitations set on me in outpatient physical therapy. My mom and I began searching the internet for other recovery options and that's when we found NextStep in LA. On day one I knew this type of aggressive Activity-Based Therapy was what I needed to give myself my best quality of life. We made several trips to California and after meeting so many other clients who were also traveling cross country, we realized this type of recovery center was needed in the SouthEast. And in 2009, we opened NextStep Orlando!
For over 11 years now, NextStep Orlando has provided standardized activity-based exercises based on current scientific and clinical evidence. More importantly we provide a support system and an environment that our clients thrive in. NextStep Orlando has given my life purpose again. Being able to help others who like me, felt hopeless, has given me purpose again.
I live a very fulfilling life! Of course there are many difficulties and challenges I face along the way but never once has it entered my mind to just roll over and give up!
What do you currently do with yourself for work or fulfilment?
I am an Ambassador for the organization and in charge of client services and social media at NextStep Orlando. I started off as a co-founder (the reason for opening if you will) and just another client at NextStep Orlando but as Social Media became more prominent, I started posting pictures and video's of our client's progress which led to me being more engaged and wanting to be more involved. I was also becoming stronger and my stamina was increasing because of my consistent therapy at NextStep Orlando so I was able to take on a part time position in
addition to my recovery program.
This of course is not the career path I had envisioned for myself. Wanting to pursue a career in dance, I moved to South Florida and planned to audition for cruise lines when I turned 18. Unfortunately, not long after my 18th birthday and before completing my Senior Year of High School, I was in that terrible car accident that changed my life forever. I had to re find my
passion and purpose which is why I'm so grateful for NextStep Orlando.
What would you say is your greatest strength?
I think my greatest strength is just being able to connect with people. To be relatable and be able to find the good in anyone. Just to be able to make others feel comfortable and maybe
even inspire some.
What is it that people misunderstand because of your disability?
I get this often, "I don't know how your able to move on and live in this condition. If it was me, I don't think I could do it, I think I'd rather die." Like, what?! I live a very fulfilling life! Of course there are many difficulties and challenges I face along the way but never once has it entered my mind to just roll over and give up!
What is one thing, experience or person you have had that completely changed your life?
3 years after my Spinal Cord Injury, I met my husband Matt through my best friend (they are cousins) but up until that point, I feared no one could love me like this. Matt never once saw my wheelchair, he only saw me. We have been together 10 years now and I would say he somewhat saved my life!
Embrace being different. Let your disability not define you but be what stands out about you and be proud of it!
Is there a single piece of technology that makes your life easier?
Google Home is awesome to be able to use voice activation for turning things on and off, getting information, etc.
Is there something about you that surprises people?
I think when I tell people I am a quadriplegic, many are surprised because I can move arms (although not my hands) and a lot of people just don't know that quadriplegic's function
levels are different based on where the break their necks. Same for paraplegics, their level of function depends on where they broke their back.
Knowing what you know now, what advice would you give your 18-year-old self?
Don't take a single thing for granted because in just a few weeks time, it's gonna be all taken away from you. Forever.
People ask me all the time, would you tell yourself not to get in that car? And honestly my answer is no, of course I'd give anything to have my body and life back to what it was but that would mean giving up all the amazing people I've met along the way and the person I am today. So I would just tell that girl who makes that horrible mistake to really really appreciate all the small things. Run around with your little brother, dance in the rain, go put your toes in the sand… because you're really really going to miss all of that.
Do you have something you would like people to know about you or about people with disability that they might not know?
With a Spinal Cord Injury, conceiving means a high risk pregnancy. Matt and I would like to start a family and so we have chosen surrogacy which costs around $120k. Although this is a cost we have elected to take on, a Spinal Cord Injury can often be very financially burdening on an individual and their families as many mothers or other relatives become full-time caregivers.
Others end up In nursing homes.
Best advice that you would like to share with other women with disabilities?
Embrace being different. Let your disability not define you but be what stands out about you and be proud of it!
Embrace being different. Let your disability not define you but be what stands out about you and be proud of it!
For what would you most like to be remembered for?
I want to be remembered for being kind and for creating a space where people with disabilities can feel included!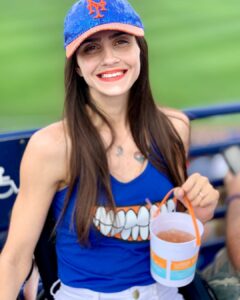 Do you have a way for people to connect or follow you?
Follow my journey on Instagram! @mando313
You can follow us on https:// www.facebook.com/nextsteporlando/ or Instagram @nextstep_orlando and we are even on Tik Tok too!