Living with disability can be a sometimes feel like a lonely road, and at times, a difficult and challenging journey. A journey made easier by finding others like you, who understand your situation and who share similar experiences that can help you to learn and grow, and from whom you find support in knowing that you are not alone.
Imagine then, that in a world with a population of 7,874,965,825* people, you live with a rare disease that affects approximately one in two million people. To get this in perspective, imagine if a large football stadium holds 100,000 fans, one would need to fill nearly 20 football stadiums to find one person who has the disease our latest Platform Storyteller lives with!
Fibrodysplasia Ossificans Progressiva (FOP) is one of the rarest, most disabling genetic conditions known to medicine, causing bone to form in muscles (and other soft tissue) leading to ongoing and permanent restriction of movement. It is a progressive disease and there is no cure.
There are 21 people living with FOP in Australia and New Zealand, and I am so happy that Brooke Scott has found her "tribe". She is also working hard to support others with FOP, create awareness and fund international research.
Brooke joined us on the Platform.
(*macrotrends.net)
Tell us about yourself
My name is Brooke Scott, I'm 40 and live with my husband and our cat Penny, in Adelaide, South Australia.
What has been your journey of disability?
I was diagnosed with a rare genetic disease called Fibrodysplasia Ossificans Progressiva or FOP for short, in 2009.   Prior to this I led a normal childhood. I participated in sports such as netball and horse riding, and as a teenager, tried ice skating and ice hockey. All these activities would be highly discouraged for a person living with FOP and I am lucky that these activities did not cause significant issues during my childhood.
It wasn't until my early 20's when I started to notice that things were a little different; my noticeable walk, which included fast small steps with my head down, and my stiff neck were signs that things were different but since they didn't cause any major issues, we let them be.  In 2009, after seeing numerous doctors and specialists, all of which couldn't agree with what my diagnosis was, I had a major flare up in my neck. FOP can present itself as lumps on the body and they are often misdiagnosed as cancer.
The lump was biopsied in five different places and around the same time, I had a CT scan on my neck, abdomen and pelvis. It was during the analysis of the CT scan that the radiologist suggested that I could have FOP. However, that would be rare given my age and my normal toes, the majority of people with FOP have malformed big toes but those with variant FOP many have normal toes, or even missing toes. After this, I had genetic testing, with the doctor also saying it was highly unlikely to be FOP, as he had seen a patient previously with the condition. The results came back and confirmed that indeed, I did have FOP, but a variant form that had only been reported in one other patient at the time.
"I don't want anyone to feel like they don't have someone they can reach out to"
What do you do with yourself?
I currently work for a utilities company as a project controller in the Maintenance department four days per week. Outside of this I am the chair of FOP Australia which is the national support organisation for people and their families with FOP in Australia and New Zealand. We currently support 21 people with FOP.
How did you come to doing what you do?
I studied business at University after working in Administration in my first job for 7 years. Making the jump from full time employment to full time study as a mature age student was daunting but worth it in the end. I have been in my current job for just over 9 years now, and I'm currently working from home due to Covid.
Has FOP impacted your career?
For the most part, my disability hasn't impacted on my career. My FOP has progressed considerably in the last 5 years, which is when I decided to work 4 days per week in order to give my body and mind a break. In 2020 I had a major jaw flare which has impacted on my ability to talk for long periods of time. My work has been flexible and supportive of my need to work from home. People with FOP should avoid injections into the muscle and should use only sub-cutaneous injections. The current Covid-19 vaccines have not been tested as sub-cutaneous so at this point, I am unable to get the vaccine even though I would be classed as high risk.
How have you become involved in promoting awareness of FOP?
In 2015 several FOP families in Australia got together to form FOP Australia. I was asked to be involved and in 2015 my husband, my sister in law Lydia and myself flew to Brisbane for the first Annual General Meeting. Since that time, I have served on the FOP Board as Director, Secretary and now Chair. I am also the Australian representative on the International Presidents Council for the International Fibrodysplasia Ossificans Progressiva Association.
What do you hope to achieve in your role as Chairperson of FOP Australia?
So many things! I want to make sure that all the people with FOP in our community feel supported, FOP can be extremely isolating, and I don't want anyone to feel like they don't have someone they can reach out to. I'd also like to be able to ensure we are in the best place possible once a treatment is released.
What is your biggest wish for the work the organisation does?
I hope that by helping fund international research we play a part in a treatment for FOP.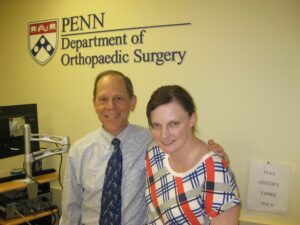 Are there things about you that people misunderstand because of your disability?
I think it's hard to understand disability and chronic illness until you have lived with it yourself. FOP for me, is extremely unpredictable, I also suffer from regular migraines which come on at short notice. On some days I may be able to walk short distances but on others this is not possible. I don't get to plan which days I will feel good and which days I won't, and I think this is hard for people to understand. Particularly if I need to cancel social events at the last minute.
What's one thing about you that surprises people?
Probably that I have skydived, and it was my first time in a plane! I did this when I was 19** and obviously before my diagnosis! Looking back on the experience, it was great at the time but I wouldn't be doing it again!
For what are you most grateful today?
Right now, it's the fact I still have reasonably good movement in my arms and legs! Although my jaw fused in June 2020, I was expecting my hips to go first. As strange as it sounds I was more prepared for how that may impact my life. I'm grateful that I can still remain independent and drive a car by myself, but I know this is going to change at some point so I'm enjoying it while I can.
Knowing what you know now, what advice would you give your 18-year-old self?
In terms of FOP, I would question any diagnosis that doctors gave me. Rare disease is often hard to diagnose, in my diagnosis journey I have seen countless doctors, both in the private and public sectors. My advice to myself would be to question anything that you are told, just because someone has a medical degree, they are not superior to you, only you know your body better than anyone else so don't be a pushover!
What is your greatest achievement to date?
Completing my Bachelor of Business (Business Admin) at University. I left fulltime work to complete this as a mature age student. At times it was tough and I failed several subjects in my first year because it was such a different challenge to what I was used to, but I persevered and got there in the end.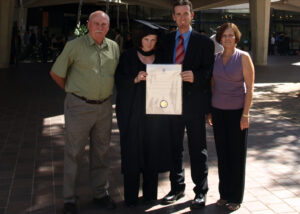 Is there something that you would like people to know about you or about people with disability that they might not know?
Most of us don't get the option whether we have a good day or a bad day, this can impact on social events which often have to be cancelled at the last minute. This has been something I have struggled with over many years, particularly with guilt and feeling like I've let people down. In the last year, I've realised that I need to allow myself time to rest and that's ok, it's not possible to do everything all the time!
"Most of us don't get the option whether we have a good day or a bad day"
Best advice that you would like to share with other women with disabilities?
Find your tribe! I think it's really important for everyone with disabilities to find someone to talk to, it doesn't need to be everyone with the same condition as you but finding people who understand what you are going through can be really helpful. I have a number of friends in the FOP community, most of them I may never get the chance to meet, but it is wonderful to be able to connect, see how they deal with FOP, but also what they do with their lives that is nothing to do with the condition.
What would be you life motto?
"Don't measure your progress against someone else's ruler"