As the host of Platform Stories, I am proud to live on Southern Yamatji land, and it is with delight that the latest woman on the Platform is Tahira Kelly,  a Yamatji woman with disabilities.  Tahira finds passion and purpose through celebrating her culture, staying connected to her family, her art and her community.  She is challenging the misconceptions others may have about how she is able to live and work in the community. Getting the supports needed during her school years,  and an opportunity to be introduced to art while at school opened a door to her creativity.
Now, although Tahira is shy and quiet by nature, she is letting her art work speak for itself and give her the foundation for a bright future.
Tell us about yourself
My name is Tahira Kelly I am a 24-year-old Aboriginal woman with cerebral palsy. I was born in Katherine, Northern Territory and moved to Geraldton in the Midwest of Western Australia at the age of 2 where I have lived ever since.
What has been your journey of disability?
At the age of 2 my parents discovered I was born with Cerebral Palsy. When I was a toddler, I had to receive Botox on my legs.  I remember during primary school having to have surgery on my legs and feet. We always had to drive to Perth and back every couple of months,  and I would get scared and nervous every time I had to have an operation. We used to stay at Ronald McDonald House  which really helped Mum and Dad so they were close to me at the hospital. Throughout my primary schooling,  I wore splints and I remember my peers being very supportive and helpful at school. I had a support teacher when at I was at primary and high school to help me in any area needed whether it was physically moving around or going somewhere or with my schoolwork. Since finishing school, I have attended TAFE doing hairdressing and beauty, however I didn't complete the course. I lived with my parents up until 2020 and then I moved into my own unit where I still currently live.   I have been doing art over the years and have managed to complete a few commissioned art pieces and exhibitions. I currently receive support through ATLAS (a recreation inclusion program) and enjoy my time with my buddies being out and active in the community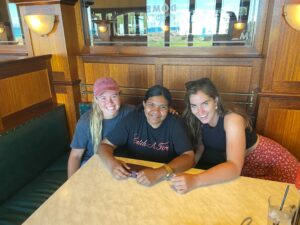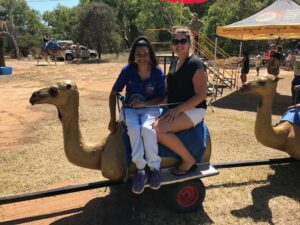 Can you tell us about your culture, and how you feel about being a young Aboriginal woman living with a disability?
I come from the Yamatji people as that is my father's people. I celebrate Yamatji culture. To celebrate our culture, my family and I sometimes go out to Mullewa in the Midwest and get kangaroos to cook up a feed with others. My Grandmother is an Aboriginal artist and I also practice Aboriginal art, mostly dot paintings.   I am proud to be an independent Aboriginal woman living with a disability.  In my culture my family are very close and like to stick together and help each other out. Last year I decided to move out of home into my own unit which was a big move for me and my family. Because of my family traditions and my disability,  I decided to move into a unit very close to my parents' house. This made it really easy for visiting each other and helping me if I needed.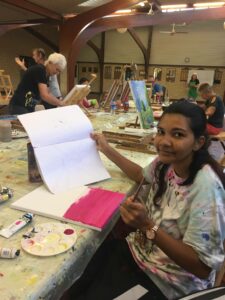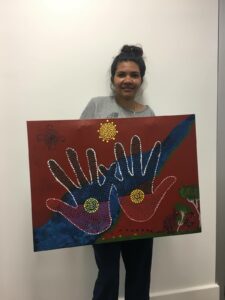 What makes you proud?
One thing that make me proud is that I am an Aboriginal woman and I celebrate my culture and traditions. Another thing that makes me proud is my achievements, most of which are to do with my passion of creating art. I am most proud that recently I submitted some art into the 2021 City of Greater Geraldton main street bollards competition, and I found out I was selected and was super excited about that. Having my artwork with my name on it displayed in Geraldton makes me proud of myself.
"I am proud to be an independent Aboriginal woman living with a disability."
What do you do with yourself?
I live on my own, and I usually wake up in the morning and get ready for the day, do any chores around the house such as my gardening or washing. During the week I have support with my ATLAS Leisure buddies (ATLAS is a recreation inclusion program) who support me to do things out and about in the community.
I love doing a whole heap of different things, including creating my artwork for art competitions or any commissions for individual pieces of art that I receive. I like to meet up with friends for afternoon tea or dinner at the foreshore BBQ.  I  like to do gardening, go fishing, play cards, recycle my cans and bottles, drive to the beach, go bike riding,  swimming and walking, make tiktoks and go to the drive in movies.  I play wheelchair basketball and I cook and bake things to take to basketball and help raise funds toward the community wheelchair basketball competition.  I am very active in my community.   On the weekends I choose to spend this time with my family and friends, and I often go to stay overnight with my grandparents. I also spend time with my partner and his family at their house.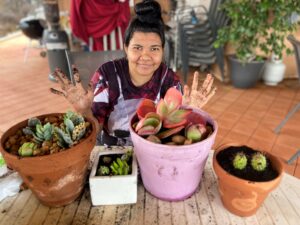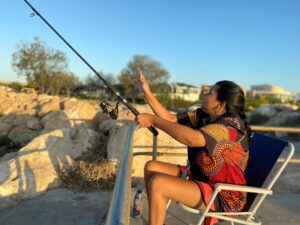 What is your biggest passion, and what are your dreams for your future?
My biggest passion is my art and my dream for the future would be to continue my art and be able to sell it more regularly. Currently I do a few commission jobs per year and enter into art competitions, but I would like to try creating more art and trying different types of art.
I would like to create my own business card and a website that I could use to advertise and sell my work.
Do you feel that your disability has meant that you haven't been able to do somethings that you want to?
Ever since I was a kid, I wanted to be a hairdresser, as it was a passion of mine and I liked the idea of making people feel beautiful. When I was 18 years old, I decided to start a hair and beauty course at TAFE. After a couple of months, I had to leave the course, the main reason being I was unable to stand up for long periods of time which is an essential part of a hairdresser's job.
Are there things about you that people misunderstand because of your disability?
Yes, as I have some learning difficulties, sometimes when I was at school someone might think my disability was just physical and not realise that I needed help with some of my schoolwork or that it was too difficult for me. However, I am also a shy person, and when I first meet people and they sometimes mistake this and think my disability has affected me more cognitively or socially. Sometimes, when this has happened, I feel like I have been babied and treated like I am not on the same level as others when I am.
"Don't let what other's think stop you from living your dreams, be who you are and do what you want to do in life"
Has there been anything, experience, or person you have had that changed your life?
My experience in school was what made me learn and love art, and if I hadn't experienced this I don't know if I would have created all the artwork I have and the things I have achieved with my art. Having ATLAS leisure buddies who are around my age and have become some of my best friends has helped me to become more confident and meet new people and be able to  socialise with others who are my age at events and things I never used to do before.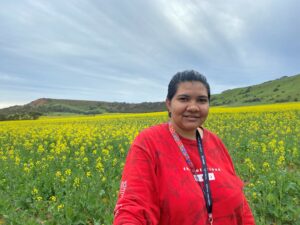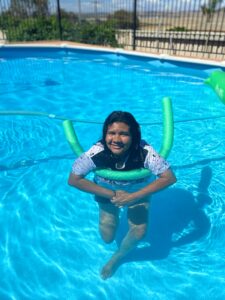 Knowing what you know now, what advice would you give your 18-year-old self?
I would tell myself to be confident and even if you are nervous for something,  if you want to do it or try it,  then do it. For example, if I was back in high school now I would have gone to my Year 12 Graduation school ball even though I was scared, because I know it is something special to experience and go to.
Is there something that you would like people to know about you or about people with disability that they might not know?
Something people should know about me is that I am very shy when I first meet new people and it can take me a little bit of time to feel comfortable in front of them. But after a while I will come out of my shell and I love to joke around, have a sense of humor, have a bit of banter and be silly sometimes.
Do you have any advice or thoughts you would like to share with other women living with disability?
My advice would be to don't let what other's think stop you from living your dreams, be who you are and do what you want to do in life.