Title Image by Ainslee Dennis.
Sustaining disability at any age comes with associated feelings of grief and loss. A sense of not knowing how and where you fit into a world that you have to find a new way to navigate.
For many of us with disability this process can be overwhelming and isolating, and finding our tribe, others to whom we can relate and find solace and understanding from, is paramount to our ability to reconnect to our sense of self-worth, and be able to participate in our communities.
Jillian Oliver loved her job as a Police officer. During a 15-year career, she received the Police Medal for diligent and meritorious duty. One day while working in a remote area, an accident while on duty changed the course of her life.
Dealing with pain and the psychological stress led to a diagnosis of depression and post-traumatic stress disorder.  With determination and support, she reshaped her life and found a way for a new passion to give not only her, but others a renewed purpose and a place to connect.
This is Jillian's story;
Tell us about yourself
My name is Jillian Oliver, I am 44 years old. I am a medically retired Senior Constable. I joined the New South Wales Police Force (NSWPF) in 1997, at the age of 21. I was stationed at Bankstown for my first few years, enjoying the work, the excitement, the helping, the camaraderie… I'd found my niche in life. I transferred to Manning Great Lakes Local Area Command (LAC) in 2002.  I am married and have 2 sons (15 & 17), we live on a small property west of Taree.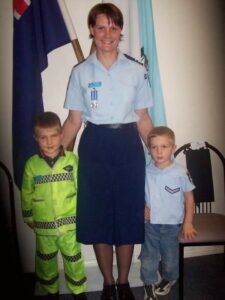 What has been your journey of disability?
On 23rd November 2010 whilst on duty at Manning Great Lakes LAC performing a cannabis eradication program, I had a major motor vehicle accident. My vehicle rolled 175 metres down the mountain. My partner and I were extremely lucky to have survived the accident. For me it resulted in suffering from Complex Regional Pain Syndrome (CRPS), Posttraumatic Stress Disorder (PTSD), severe depression, anxiety and ultimately after six and a half years of swelling, heaviness, and pain, being unable to use it, an arm amputation.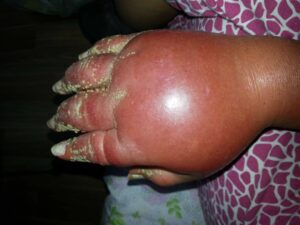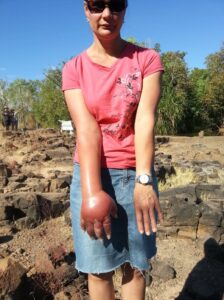 I had to go hospital in Sydney away from my family. There I  underwent many tests and medical examinations before it was allowed to be removed. The bones and muscles were deteriorating, and it could not be fixed even if a cure for CRPS was found.
I had made the decision to have it removed…I mean I hadn't been able to use it for over 6 years anyway. It was heavy and causing more problems with my shoulder and neck… not to forget the mental side. That alone was tough. There was a big risk of the CRPS getting worse, however I decided it was a risk worth taking.
The amputation improved my mental health although the CRPS is still present in the arm and now I suffer phantom pain,  but I feel I made the right decision. My friends had said even got my colour back so to speak… considering the nasty fluid in the arm no wonder.
It has been a long road travelled with many ups and some very serious downs. The loss of my dominant arm, loss of a beloved job and the camaraderie made me sad, angry and at times unable to cope with life.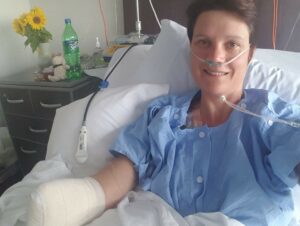 I was right handed so I've had to learn to become a lefty.
It was a challenge however when you have kids and a family life you have no choice but learn to adapt and quickly! There are meals to make and chores to do. I do pride myself on my creativity on getting jobs done. Sometimes I may look like I'm doing yoga using feet, hips whatever I need to get the job done. I have learnt to strain a barbwire fence!! I might be slow and sometimes it takes a lot of effort (& pain) however when you achieve one of those challenges it so rewarding mentally.
How did you find a way to regain your confidence and re connect with your community after your initial injury?
Part of my rehabilitation or "therapy" has been using the arts. I was given an idea by a friend (a high school art teacher) to give painting a go. As I was having to learn to use my left hand it was suggested that this may help with the coordination. I had painted a little as a kid but hadn't touched a brush since. My first attempts were definitely no masterpieces, but I felt good for having tried and by creating something I felt encouraged. I continued painting, finding peace and real joy sharing my work with family and friends. This was a relief as I was dealing with so much, learning new living skills (including unable to play my musical instruments or be active in my sports), 24/7 excruciating pain, depression, not wanting to be in public, the hassles, stress and anger of the non-stop dealings of insurance and police rehabilitation case workers etc.
Believe it or not, I actually had an occupational therapist suggest that vacuuming my house could be my new purpose in life, this was only a touch on the things I had to deal with.
After a time, I started to attend an art group run by local artist and retired art teacher. These mornings became something to look forward to. I was the youngest in the group, but I felt safe and supported. I was given useful advice and mentoring to help with my painting, I felt accepted, part of the group, something that I was missing. It also helped to get me back around people as I had been isolating myself – avoiding people.
"I was given useful advice and mentoring to help with my painting, I felt accepted, part of the group, something that I was missing"
Part of my isolation was partly due to the look of my arm. When with my kid's, people would just about snap their necks to get a better look at my hand, we would get comments and questions all the time. I was sick of it however it really upset my boys. It was hard enough on them that they couldn't hug me properly without fear of bumping my arm and causing more excruciating pain. The affects of the accident certainly had flow on effects on my relationships with family and friends. I had been a very active person, loved all sorts of sports (kayaking, hockey, abseiling, horse riding, swimming, 4wding) played the guitar, piano, piano accordion, had been a trainer with SES, trekked Kokoda and Shaggy Ridge Tracks PNG, community orientated and full of life.  So, life had virtually stopped for a while, especially being bombed out on medications, I actually had parts of my life missing from my memory.
I had ridden the ups and downs; I had got to such lows that I can now admit that I had tried to end my life just to stop the pain, stress and the burden I thought I was to my family. I am so thankful now I found a small reason each time to keep on going, take each day at a time.  I found that the artwork was also helping me see things in a more positive way once again, it was helping me to realise I could still do things, I had skills I could use, to look at things in new ways. I finally had that lightbulb moment that I could just exist, or I could try and live my best life.  My sons were involved in Scouts, as a former Queen's Guide and Guide leader, I realised there were still some skills that I could teach. As I had to be there as a parent, I started helping which gradually led me to become an assistant leader. I found I was able to use my 'disability' to show you can't give up, that somethings things are hard and might not go to plan but if you keep trying you will succeed.
"I finally had that lightbulb moment that I could just exist, or I could try and live my best life"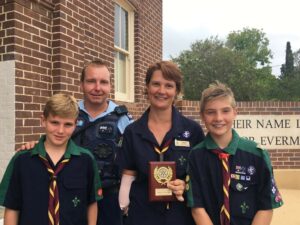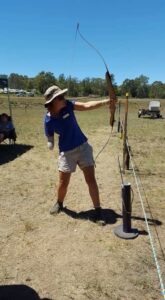 I've always believed that things happen for a reason and that you just never know what is around the corner. In saying this, I put one of my paintings 'out there' and it paid off. Inspired by a picture I had seen on Facebook, of our Australian Defence Force attending an ANZAC Day ceremony in Qargha Afghanistan, I painted it and sent a photo to their Facebook site. Shortly after I received a message asking permission to share this painting with the officer involved, naturally I agreed. After numerous emails between the officer (Lieutenant Colonel) and myself, my painting was offered to the team in Qargha for a raffle between the nations stationed there. The money raised went to a local orphanage that the Aussies support, buying washing machines and other items. It raised over $1200.
 
Anzac Day on Mount Schrandez by Wingham artist, Jillian Oliver.
You established art classes to support others as a means of therapy, how did this come about?
Luke Gosling, MP, who is a federal member of parliament visited the Defence Force personnel, where he heard my story and bought a copy of the painting which had been printed. (The money going to the orphanage in Afghanistan). He mentioned this in his report back in parliament, (recorded in Hansard) where his copy of the painting is hung in his office. He then put me in contact with a former Australian Defence Force colleague, Mark Johnston, who was involved in supporting veterans and families using art programs in Melbourne.
Mark is the Chairman and Director of Australian National Veterans Arts Museum (ANVAM), in Melbourne. ANVAM is a non-for-profit organisation supporting veterans and families who struggle with issues resulting from their service such as PTSD, and other injuries or issues through community art-based programs. Mark and I spoke numerous times about how engaging in the arts can be as valuable as sports. Through ANVAM's support and the encouragement, I was inspired to look at starting a local art group for veterans and first responders who may suffering from PTSD, depression or other work relate injuries. My art mentor and friend Ron Hindmarsh, a local artist, and I have been enjoying running the group since March 2018. We voluntarily host it weekly for our members that include retired members of the military forces along with several retired and serving Police, Fire brigade and Ambulance officers.
"We teach basics of various arts, perspective, tools of the trade, composition etc but the main part is enjoying a few laughs, stories, support over a tasty morning tea"
Although we have started small, we have grown as word spreads. The response has been wonderful, and members state that they look forward to each meeting and wished this had been offered years ago as it has been invaluable to them.   Naturally this helps me keep my spirits up as well. We teach basics of various arts, perspective, tools of the trade, composition etc but the main part is enjoying a few laughs, stories, support over a tasty morning tea.  The group, aptly named "Art and Soul" art group have had a couple small exhibitions hosted at Taree Craft Cottage. Not only does this exhibition showcase our groups work but also promotes the group and offer assistance to others in the same boat. Artwork can be purchased too, with a percentage going back into the group to fund art equipment etc. This process is wonderful, the pride shown by the artists is great to boost their confidence as well as the others in the group. We have created a safe, welcoming happy place for the group. Art is not only limited to painting or drawing but can be through music, writing, theatre, creating gardens, digital photography, sculptures etc, they all have similar benefits. We have only recently since started a music program and look forward to seeing it progress like the art group.
I found that the artwork was also helping me see things in a more positive way once again, it was helping me to realise I could still do things, I had skills I could use, to look at things in new ways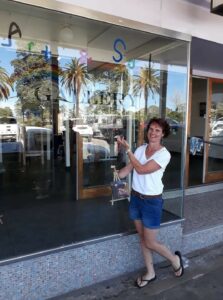 What opportunities have you been able to be take up as a result of your art?
An important process that helped me to keep my anger at bay was being involved in the New South Wales Police Force (NSWPF) – Shades of Blue Art Exhibition. I was fortunate enough to participate in 5 of them. A lot of the artwork I submitted earlier I look at now and cringe, but I am still proud to have had it exhibited and how far I have come. I was lucky to have been asked to speak at the 2017 exhibition at Mudgee, about my experiences. I took this opportunity to speak about how hard not only the physical effects had been but how the separation from the Police had been. I was really quite lost having been medically retired from a job I loved. I enjoyed the dramas of 'the process' and how the use of art including the 'Shades of Blue Exhibition' had helped me "process and reconnect" with the NSWPF.   I believe that this is an important event, as it supports retired and current serving Police, many who had approached me saying they understood the importance of art to relieve stress etc,  and how they looked forward to participating each year. I am sure that I am not the only one who would think the same. Art can be so beneficial through a range of expressive possibilities that can enhance mental, physical and social wellbeing, and provide relief from the impact of service.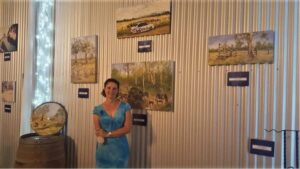 A huge door opening was an offer for me to work with ANVAM on an exhibition during the Invictus Games. Naturally I felt honoured to have been asked not being from the military, so I put my hand up to assist, although not really knowing what it would entail.
The idea was to open the opportunity for veteran artists from participating nations of the Invictus Games to submit their artwork and stories.  The International Veterans' Art Exhibition (IVAE18) was a unique opportunity to inspire veterans from across Australia and the world to pursue their recovery and wellbeing through the creative arts. This also highlights the role of the arts through on-going care, training and vocational opportunities. The exhibition was approved and endorsed by the Invictus Games team both in Australia and England. The understanding being the sports as well as the arts can be a way of recovering from the trauma of war and other conflicts.
"It was a unique opportunity to inspire veterans from across Australia and the world to pursue their recovery and wellbeing through the creative arts."
My role was as exhibition director and co-curator, and this was a totally new experience for me. I took on the challenge with the support of my ANVAM team. We had 63 artworks submitted from 7 countries, being a first of its kind international exhibition. (Australia, Canada, New Zealand, USA, Great Britain, Poland, Ukraine) We were so thrilled.   The exhibition was held at the Hyatt Regency Sydney during the Invictus Games (20-27th October). The launch, official opening was held on the 23rd October. My role at the launch was to be the MC and I shared a small part of my story and how I got involved in the exhibition and how I enjoyed it. Not being someone who enjoys public speaking I was extremely nervous but talking about something you are passionate about it was a little easier.
What else did you experience at the Invictus Games?
During the Invictus Games, I was also fortunate to be a part of the team of art facilitators with an art activity in the dome at the Olympic Park. Working with the veteran athletes, listening to stories being shared with us was truly inspiring. The other amazing outcome was athletes and their families getting a true understanding about using art as a way of "recharging".
Many shared stories of their experiences, their traumas and what helped get them get through the hard times, some even saying they used the arts, whether music, creating, colouring, sculpting, painting on their journeys. This was reassuring to hear that people were aware of the benefits and that the word was spreading.
After this experience, I have heard from several of the artists in the exhibition and how they have had wonderful opportunities opened up to them because of their participation. This to me was just the icing on the cake! It has helped me to further understand the importance of art and given me further purpose to continue this program.
Image by Ainslee Dennis
"I can do most things, might take me longer than most but I like to try. I have finally learnt it is ok to ask for help"
Has this led to other opportunities?
I have since been asked to speak at numerous community groups. Although I am getting better at public speaking the sharing of my story is hard, I keep in mind that my experiences might be the 'lightbulb' moment that encourages or inspires someone in similar circumstances, to give it a go, or to never give up.
I will continue to set goals, like aspiring to return to PNG, the Kokoda Track again, to further the art program and make my family proud.
Are there things about you that people misunderstand because of your disability?
Yes, that just because I'm missing my hand, that I need a hand, I mean assistance. I can do most things, might take me longer than most but I like to try. I have finally learnt it is ok to ask for help.
What is one thing, experience or person you have had that completely changed your life?
I honestly don't think I can narrow it down. I have been so fortunate to have met so many inspirational people and had many life changing experiences that have shaped me into the person I am now. There would be a book full of people I would like to thank along the way.
Is there something that you would like people to know about you or about people with disabilities that they might not know? 
Yes, I might be smiling (usually to keep others happy/comfortable and avoid endless questions) however I am in immense pain 24/7.  Though I believe that there is no point feeling sorry for yourself.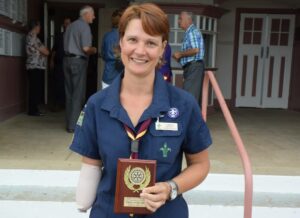 What would be the best advice that you would like to share with other women with disabilities?
Never give up, there is no such thing as can't. the hard things take a while, the impossible take a little longer. Always look for positives in every situation, even if they are small, they are positive! Be kind to yourself and smile. Get involved in the community, it helps you and it helps others to understand your 'disability'.
If you would like to know more about Jillian and her work you can find her at;
Washpool Art Gallery – on Facebook
Art and soul – Wingham art group (Defence and emergency service personnel)
jaoliver@hotmail.com